Is a standard height toilet, unsuitable for your needs?  Do you find regular toilet seats that little bit too short for your comfort?  Well if you said yes, then read on because the Convenient Height company may have made the perfect size toilet for you. 
This company has the Tallest Toilet Bowl Height in the toilet industry.
A regular toilet measures a standard height of roughly 14″ to 15″ from floor to bowl.  When you install a toilet seat to the bowl, then you may get a maximum height of 16″. 
Of course, you can add a toiler riser seat to give your toilet height a boost, however they can be a little difficult to get a solid seating experience.
This page contains affiliate links. We hope you love the products we recommend but just so you know, if you purchase a product from one of our links below, we may receive a small commission. Details here.
What Is A Comfort Height Toilet?
So what to do? Well there are always Comfort Height Toilets to choose from with many different shapes and designs. A Comfort Height toilet will measure over 16 1/2″ from floor to rim and with a seat installed will measure over 17″.
A regular kitchen chair is a good comparison to a Comfort Height toilet.  If you find the height of a kitchen chair comfortable to sit on, then a Comfort Height model should be fine for you.
What Is An ADA Compliant Toilet?
Comfort Height toilets, also known as Universal Height, Comfortable Height or Right Height toilets, are ADA compliant and measure between 17″ to 19″ from floor to seat. ADA Compliant toilets not only make using the toilet a little easier for the disabled but also for the elderly too.
And of course, lets not forget tall people.  Regular height units are ideal for regular height people.  However, if you are taller than 6 feet, then you may find a Comfort Height model more comfortable.
What If A Comfort Height Toilet Is Not Tall Enough?
If a Comfort Height Toilet is not tall enough, then the Convenient Height company have come to the rescue.  The Convenient Height company have made the tallest unit on the market and have aptly called it the 20 Inch Convenient Height Toilet.  Lets have a closer look at this extra tall model.
The Highest Toilet Available – 20 Inch Convenient Height Toilet
As I mentioned earlier, Comfort Height, Universal Height, Comfortable Height and Right Height toilets are all the same.  Different names from different brands.  All of them measure roughly 17″ from floor to seat and all are ADA compliant.  However, we have another name for a tall toilet now…Convenient Height. 
This unit stands head and shoulders above any Comfort Bowl Height toilet because it is so much taller.  In fact, it is surely the tallest unit available on the market.
Design
Extra Tall
As the name suggests, this model measures 20″ from floor to rim.  Comparing this height to a standard height model of around 14.5″, that is a huge difference.  Even compared to Comfort Height toilets measuring 16.5″, there is a big difference.  It is also worth remembering that this 20 inch measurement does not include the seat.  With the seat installed, this model measures a very tall 21″.
Have a look a this short video demonstrating the height difference between the 20 Inch model and a standard toilet. You can see that sitting and standing becomes so much easier for the user: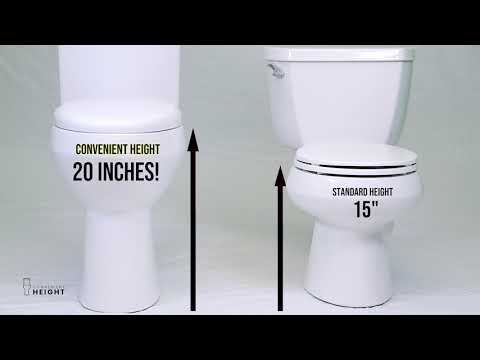 Compact
I also really like how compact this toilet is.  It may be tall but it isn't super long.  It has an elongated shape bowl, so it will still have enough bowl size for a comfortable seating experience. 
However, it is the tank size that makes it compact.  It only measure 27″ from the back of the tank to the tip of the rim.  This is because the tank is quite slim and elegant.
This clever space efficient design will allow you to get all the benefits of an extra tall toilet but still have the space saving qualities of a compact toilet.
Slow Close Seat
Another feature, I really like is that a slow close toilet seat is included.  Many toilets do not have a seat included, so this is a bonus.  Also, the seat included with this one is a slow close seat.  No more slamming of lids and potential cracking of the bowl.
Overall
This is a great looking model and will add a lot of style to your bathroom. It is compact, elegant and looks very modern. I really like how the company have designed this model so that it gives you all the benefits of a tall toilet but without taking up extra space in your bathroom.
specifications
Colors: White
Dimensions: L 27″, H 36-1/2″, W 15″
Seat Height: 21″
Weight: 120 lbs
Material: Vitreous china
Shape: Elongated
Handle: Left-side
Rough-in: 12″
Certification: WaterSense
Flushing System
Gravity Tall Flush
This toilet's height not only benefits the user but will also benefit the flush. Due to this model's extra height, gravity adds extra flow power to the siphonic flush, ensuring a fast and effective flushing system. It passed the Maximum Performance test (MaP) test with 800g, which is pretty good.
Dual Flushing Options
The 20 Inch toilet is also a Dual Flushing model with an option of 1.28 gallons per flush for solid waste and 0.9 GPF for liquid waste.  Many dual flush options start at 1.6 GPF, however the 20 Inch toilet is a real water saver with highly efficient full and partial flushing options.
WaterSense Certified
It is WaterSense Certified and will qualify for rebates in certain states.  Being WaterSense Certified is not only great for the environment but will help you save money on water bills too.
Overall
The flushing system in this model is quite impressive.  The extra tall height allows gravity to provide a more powerful flush.  Also, the dual flushing options are always a good option for saving water, making this model WaterSense Certified.
Installation
Although I usually advise people to install their own toilet as it isn't that difficult a job, the Convenient Height Co. have stated that this model must be installed by a licensed professional plumber. In fact, they would prefer a licensed plumber with 'Dual Flush Valve' installation expertise to install this unit.

How Does This Tall Toilet Compare To A leading Competitor
To find a worthy competitor, I looked for a Comfort Height, Dual Flushing, Compact, Modern looking toilet that will be easy to clean and also look just as stylish in a modern bathroom.  Well, after careful consideration, I chose the Woodbridge T-0001.
Design
To be fair, these toilets do not look a like. The Woodbridge T-0001 is a one-piece, modern toilet that is very popular. It is compact, has a smooth base for easy cleaning and it looks very stylish.
However, even though it is Comfort Height and measures over 17″ from floor to seat, it is no where near as tall as the 20 Inch toilet (which is in fact, 21″ from floor to seat).

With an almost 4″ floor to seat difference, there is only one winner when it comes to height.
Also, the Woodbridge T-0001 is a one-piece, where as the 20 Inch model is a two-piece.  One-piece toilets will always be easier to clean because they don't have a gap between the tank and bowl.
Flushing System
Both models have dual flushing features and both are WaterSense Certified. 
20 Inch Convenient Height toilets have a flushing option of 1.28 GPF for a full flush and 0.9 GPF for a partial flush. Compare this to the Woodbridge T-0001's 1.6 GPF and 1.0 GPF.

As stated earlier, both are WaterSense Certified, however the 20 Inch model uses less water per each flush. In fact, it uses 20% less water per full flush.
Installation
The 20 Inch toilet must be installed by a licensed professional plumber, where as you can install the Woodbridge T-0001 yourself. 
If you would prefer to install a toilet yourself, then the Woodbridge T-0001 comes with a detailed instruction manual to guide you through the process.  Also, customer support are only a phone call away if you need any help.
Price
At the time of writing, the 20 Inch toilet is more expensive that the T-0001.  The T-0001 is actually very good value.  However, the 20 Inch model is a specialty toilet and can't compare to any other model on the market.  It is 21″ from floor to seat, which makes it quite unique and very valuable to certain people. 
If you want a very tall toilet, the tallest on the market, then you will need to pay that bit more.
The 20 Inch Convenient Height toilet may also qualify for a tax deduction as a medical expense. So this will reduce the price difference.

And the Winner is……
The Woodbridge T-0001 is a great value, compact, stylish, dual flushing toilet that will add a lot of style to any modern bathroom.  It is a Comfort Height, ADA Compliant toilet that will benefit anyone that wants a taller toilet compared to standard height models.
However, if you are looking for an extra tall toilet, then the 20 Inch Convenient Height model is definitely a great option.  Measuring 21″ from floor to seat, you surely won't find any taller on the market. 
Not only is it extra tall, but it is compact in length.  It looks great, is WaterSense Certified and has dual flushing options.  It may be more expensive but it is unlike any other toilet available.
20 Inch Convenient Height Toilet
The 20 Inch Convenient Height Toilet is the tallest toilet on the market. It may be tall in height but it is also quite compact in length. Not only does it look great but it also has dual flushing options and is WaterSense certified. If a comfort height toilet isn't tall enough for you, then this model is a perfect option.
PROS
21" Seat Height
Dual Flushing Options
Sleek Design
Compact
Toilet Seat Included
CONS
Must Be Installed By A Licensed Plumber
Who Will Benefit From This Extra Tall Toilet?
For some people a standard height unit just isn't tall enough.  They need that extra bit of height from floor to seat to make their bathroom experience more comfortable.  A comfort height toilet will normally be 2″ taller than standard height models, however for some, this still may not be enough. 
The 20 Inch Convenient Height toilet will be a great option for:
Very Tall People –

A comfort height toilet may be fine for a very tall person, however it won't be the ideal height.  Measuring 21″ from floor to seat, this model will be a lot more comfortable for very tall people.

Elderly –

As we age, our joints are not as equipped to handle the stress of standing up and sitting down a lot.  We use the bathroom often, therefore it can become quite uncomfortable if you have arthritic knees and weak thigh muscles.  An extra high bowl can make sitting down and standing up a lot less painful.

Disabled –

As with the elderly, if you have a disability that prevents you from sitting down and standing up easily, then a tall toilet seat can definitely help a lot.  A tall toilet may also help prevent falls.

Toilet Riser Users –

Maybe you use a toilet riser on your current toilet.  If you are about to upgrade to a new toilet, then why not ditch the toilet riser and replace your old toilet with an extra tall model.  You will have a lot more stability using a tall toilet compared to a toilet riser.
Final Thoughts
The 20 Inch Convenient Height Toilet is more than just an Extra Tall Toilet.  It is compact and stylish and will look fabulous in any modern bathroom.  Its 21″ measurement from floor to seat will make using the bathroom a lot more comfortable for not only tall people but anyone that struggles to use standard or even Comfort Height toilets.
Its Dual Flush options are fantastic water savers.  With a 1.28 GPF and 0.9 GPF, it is one of the better dual flushing toilets on the market and will save you a lot on water bills.
This model is quite unique and is surely the biggest toilet available.  So if standard height or even Comfort Height toilets are too small for you, then it may be worth investing in the 20 Inch toilet by the Convenient Height company.
Is a Comfort Height toilet tall enough for you? Is the 20 Inch Toilet the worthy winner of the Tallest Toilet Bowl Height award, or have you found taller? Hopefully, this article has given you enough information about this awesome specimen of a toilet, so that you can make an informed decision on whether it is the right toilet for your bathroom.