Welcome to my TOTO Drake Toilet Review.
I'm sure you've noticed the heavy competition in the bathroom industry today, making it much more difficult to pick  the best toilet that's right for you.
Among all, TOTO is probably one of the most popular manufacturers in the market. They are known for manufacturing remarkable and top quality products.
This Japanese manufacturer has been in the industry for more than 100 years already and they are still producing some of the most innovative toilets on the market. Among these is the TOTO Drake Toilet.
TOTO Drake (CST744S) is a budget-friendly pick in the most powerful toilet category. It's the best choice for people who want to enjoy the standard height and feel of older toilets, but with modern power. In this Toto Drake Toilet Review we will take a closer look and find out if this toilet suits your demands. Please keep on reading below.
This page contains affiliate links. We hope you love the products we recommend but just so you know, if you purchase a product from one of our links below, we may receive a small commission. Details here.
Features And Benefits
Impressive flushing mechanism
One thing this model boast the most is its remarkable flushing mechanism. Thanks to TOTO's G Max flushing system, it has the power to clean whatever waste there is, in a single flush.
Using a gravity-fed system that comes with a large flush valve, 3 inches wide as opposed to the usual 2-inch component, it releases water with great force. What's great about gravity fed flushing systems is that they are not only very effective but they are also a lot quieter and more discreet compared to pressure assisted systems. The tank quickly refills too, in just 35 seconds.
Check out this short video to see why the TOTO Drake Toilet is so popular 

(viewing time 0.41 seconds)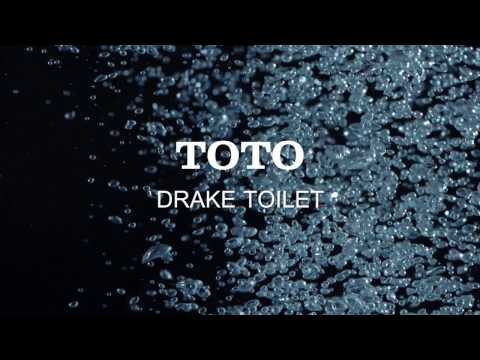 It's hygienic and easy to clean
This model also features a computer-engineered fully glazed trapway which is a big help in eliminating all waste in a single flush. It has been designed to maximize cleaning power and to eliminate any risk of clogging. This fully glazed trap way also prevents dirt build-up as well as discoloration, helping to keep it lot more hygienic.
Moreover, the rim of the bowl features a siphon jet design that essentially fires water down the sides. The water will forcefully clear out any waste and does a great job at cleaning the bowl while it runs.
Less water consumption
This toilet will only consume up to 1.6 gallons per flush. Though this is not a lot of water, it was not able to meet the EPA WaterSense Certification requirements. This might disappoint some people, but it still compares very well to older models that could use twice the amount of water. It is by no means a wasteful toilet.
The Drake is not WaterSense certified but still only uses 1.6 GPF

Classic and elegant design
The Toto Drake will help make any bathroom look amazing with its elegance and classic style. It is also ADA-compliant, meaning it can be installed in the workplace and public restrooms. (Round bowl version is a normal height toilet, therefore is not ADA Compliant).
Furthermore, it has a space saving design. This toilet has a pretty impressive, high profile tank design and takes up less space compared to some other elongated bowls in the market. The lids are also lockable to avoid anyone from messing around with the flush system.
There are also five colors you can choose from Colonial White, Cotton White, Ebony, Bone and Sedona Beige.
The Drake Elongated bowl is ADA Compliant with Universal Height Seating (Round bowl version is not ADA Compliant with normal height seating) and has a sleek space saving design

Specifications
Color : Bone, Ebony, Colonial White, Cotton White, Sedona Beige
Dimensions : 28 x 19-7/8 x 28-1/2 inches
Seat Height: 16.5 inches
Shape : Elongated & Round
Material : Vitreous China
Weight : 87 lbs
Flush : 1.6 GPF
Handle : Left Side
Certification : ADA Compliant
It's easy to install
Another impressive thing about this model is that it is very easy to install, being a two-piece toilet. There are detailed installation instructions included. Plus it does come complete with all components, like floor bolts as well as fill and flush valves can be found in the toilet kit. So there's no need to buy anything extra except for the seat.
Toto Drake Toilet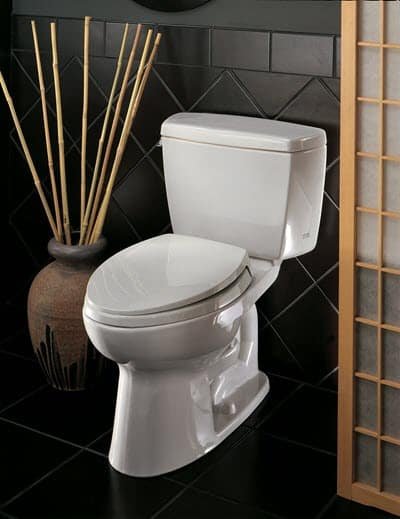 How Does It Compare
TOTO Drake vs. American Standard Cadet 3 Right Height
The American Standard Cadet 3 Right Height is comparable to the TOTO Drake. Both are molded from vitreous china and also come with a three-inch flush valve, as well as a similar size large trapway. This two-piece toilet is also ADA-compliant and uses 1.6 gallons per flush.
Both of these toilets are good choices

TOTO Drake vs. TOTO Drake II.
Despite being different models, the TOTO Drake and the Drake II come with similar features. Both models are two-piece toilets with elongated bowl designs. They are made with vitreous china material, which is a durable material that will last for a very long period of time.
However, when it comes to flushing systems, the Drake II has a more powerful flushing system as it uses the dual double cyclone technology. The Drake G-max flushing system may not be as powerful but it is still very efficient. On the other hand, though the Drake II performs very well, it is a bit on the aggressive side where noise has become an issue. The TOTO Drake works just as well, and even more quietly.
If you want a water saving toilet, then go for the TOTO Drake II toilet. The Drake II is more water efficient as it only uses 1.28 gallons per flush and is WaterSense certified. But then again, the Drake toilet is cheaper and still a great option.
The Drake II is more powerful and WaterSense Certified (1.28 GPF), however the Drake is quieter and still water efficient (1.6 GPF)

TOTO Drake vs. TOTO Ultramax
These two Toto models are among the best-selling toilets and have some exceptional features to offer. Both toilets are excellent in performance and are very comfortable. The main difference between these two models is that the Ultramax is a one-piece toilet while the Drake is a two-piece toilet.
This means that Drake is much easier to install as it is a two-piece design and is not heavy. On the other hand, the main advantage of the Ultramax being a one-piece toilet is that it is much easier to clean. The Ultramax is one of the most popular choices for one-piece models among consumers.
Both popular toilets, the Drake is a two-piece toilet, where as the Ultramax is a one-piece toilet

Toto Drake Toilet
The Toto Drake Toilet is a classic model and still very popular to this day. The G max flushing system uses 1.6 GPF and is still quieter compared to more modern models. An affordable, efficient toilet that will still look great in any bathroom.
PROS
Affordable
Water Efficient
Quiet Flush
ADA Compliant
Final Thoughts
If you are looking for a good toilet, but are on a bit of budget, then the TOTO Drake toilet might be a good way to go. Though this budget-friendly toilet lacks some of the extra features many modern toilets have, it is a superbly designed toilet.
If you are coming from an older, annoying fixture, I'm sure you will find the TOTO Drake to be very refreshing. Plus, one thing is for sure, it will be dependable for years to come.
And since it's been on the market for a few years already, many different reputable sites have been recommending it year after year. I hope you found this Toto Drake Toilet review helpful. Have you tried this model? Let me know your thoughts in the comment section below, I would love to hear from you.