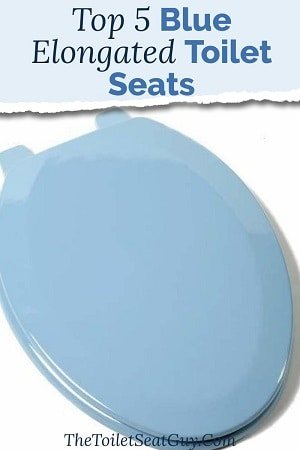 Is blue your favourite color?  Blue is certainly a great colour to brighten up your toilet and make it look fresh and clean.  In this post I will find some of the brightest, bluest, blue elongated toilet seats for you to choose from.
To help choose the right blue color for your bathroom, I have added the color to the clickable button by each toilet seat. This should give you a better idea of what type of blue color it is.
Unfortunately, not every color toilet seat will match the image color given by the manufacturer.
This page contains affiliate links. We hope you love the products we recommend but just so you know, if you purchase a product from one of our links below, we may receive a small commission. Details here.
Comfort Seats Deluxe Molded Wood Toilet Seat, Elongated, Regency Blue
If you want a heavy, sturdy, solid toilet seat, then a wood option is a good start. The Comfort Seats brand is a safe enough company to deliver good quality toilet seats.  This seat is multi coat painted for a smooth finish that will last a long time.
One problem that occurs for many people ordering specific colored items online is that you may not receive the exact color in the picture. For example, if you ordered this blue toilet seat, you will certainly receive a blue toilet seat, however, whether it matches the same blue color on the photo is another thing. This elongated toilet seat is easy to install and has 4 color matching bumpers that blend well with the regency blue color.
If you are looking for a blue elongated toilet seat, then this heavy duty wood toilet seat by Comfort Seats is a nice option for you.
Details –
Regency blue color
Elongated shape. Dimensions : 2.5″ H x 14.38″ W x 19.5″ D

Heavy duty wood material ensures strength and durability

Multi-coat surface finish for long-lasting and durabilty

UV paint additive maintains original color

Factory installed hinges ensure perfect alignment between the cover and seat

Easy to install, corrosion proof, self-aligning hardware

4 color matching bumpers

1 year manufacturers limited warranty
---
Great Value Blue Wood Elongated Toilet Seat
Bemis Molded Wood, Elongated Toilet Seat With Easy Clean and Change Hinge, Dresden Blue –
This Bemis Dresden Blue Molded Wood Elongated Toilet Seat definitely gets my top value pick. It is a strong and sturdy toilet seat, as you would expect from wood materials, but I also like the high gloss finish that resists scratching and chipping. I also like the fact that this product is made with environmentally friendly materials and processes.
It is easy to clean because the toilet seat is designed with twist hinges for easy cleaning and removing.  This toilet seat is one of the more popular blue elongated toilet seats and it is easy to see why.  It appears to be of similar standard to other wood toilet seats yet only half the price.  If you are looking for a good quality, good value for money blue wooden toilet seat then this Bemis toilet seat is a good choice for you.
Details –
Dresden Blue color
Elongated shape. Dimensions : 2″ H x 14″ W x 18.9″ D

Durable molded wood with a high-gloss finish that resists chipping and scratching

Color-matched bumpers and hinges

Made with environmentally friendly materials and processes

Easy to clean and change using twist hinges (bolts remain on toilet).

Simple Installation
---
Best Slow Close Plastic Blue Toilet Seat
Bemis Slow Close Sta-Tite Elongated Closed Front Toilet Seat, Colonial Blue –
If you would prefer a plastic blue toilet seat, then this Bemis toilet seat is a nice option, especially because of its slow close feature. I love slow close toilet seats as all it takes is a tap of your finger and the lid will find its way down itself, without a thumping bang. This feature is great if you have little kids in your house as it will prevent any pinching and falling toilet seat lids landing on little fingers.
The toilet seat is made of resilient plastic that resists wear and tear very well. It is easy to install and its hinges allow for easy access cleaning and easy removal.
If you are looking for a whisper-close blue plastic toilet seat, then the Bemis Colonial Blue elongated toilet seat would be a great option.
---
However, I have found some other blue colors for the same toilet seat. If you would like to have a look at the different color varieties of this toilet seat, then click on each of these blue colors :
---
---
---
Details –
Colonial Blue, Rhapsody Blue, Sky Blue, Blue Mist, Regency Blue, New Orleans Blue
Elongated shape.  Dimensions 2.3″ H x 14″ W x 18.8″ D

Made with resilient plastic that resists wear, chips and stains

Whisper-close hinges close slowly and quietly with a tap, preventing slamming and pinched fingers

Easy clean and change hinges 

Sta-tite seat fastening system prevents loosening of seat 

Easy installation
---
Alternative Art Blue Elongated Toilet Seat
TOPSEAT Art of Acryl Elongated Toilet Seat With Slow Close Chromed Metal Hinges, Wood, Shabby Chic –
As a nice alternative blue option, I thought I would show you this art style blue toilet seat.  The design is called Shabby Chic, and has a really interesting look.  It has an image of old worn down blue paint on it, however, it also has a high gloss finish to give it some style.  This style may not be for everyone but I think it looks quite cool. Therefore, if you would like to find out more about this toilet seat, then click the link below.
Details –
Shabby Chic design
Elongated shape. Dimensions : 2.25″ H x 14.75″ W x 20″ D

Patented high gloss surface over high definition image

Smooth, hand sanded, superior grade painted finish

Chromed metal hinges

Slow close feature

Made with durable wood

Three-year warranty
---
I hope you found this article helpful and were able to find your ideal blue elongated toilet seat, perfect for your bathroom.
Check out some other color toilet seats here: