Welcome to my Kohler Cimarron Toilet Review.
The Kohler K-3609 Cimarron is one of the company's more popular models. With its sleek design, powerful flush and efficient water usage, you can see why it is highly rated.  However is it the right toilet for your bathroom?  Well, hopefully this Kohler K-3609 Cimarron Review will answer the question.
This page contains affiliate links. We hope you love the products we recommend but just so you know, if you purchase a product from one of our links below, we may receive a small commission. Details here.
Design
First of all, this is a two piece toilet. Two piece toilets are generally a little cheaper than their one piece counterparts, however they may need a little more cleaning. Two piece toilets have more crevices for dirt to grow, meaning a little more maintenance is necessary.
Secondly, it has a comfort height seat. Unlike most most standard height toilets that measure roughly 14″ to 15″ from the floor to seat, a comfort height seat will measure 17″ to 19″. A comfort height seat is the equivalent of a chair height. This will make it easier for most adults to sit down and stand up, especially taller individuals. Not only that but a comfort height seat is a great choice for people that find sitting down and standing up difficult, for example the elderly, disabled, obese and those recovering from knee or hip surgery. It is worth noting that a comfort height toilet may make using the toilet a little more difficult for young children.
The Comfort Height® feature provides chair-height seating that makes sitting down and standing up a lot easier for most adults.

Thirdly, the toilet has an elongated bowl. For many people the choice between an elongated bowl and a round bowl is a personal preference. However comfort wise, there can be a difference. Generally, an elongated toilet bowl is 2 inches longer than a round bowl. This can be a little bit more comfortable for some people, especially for the larger individual. Also, an elongated bowl will take up a little more space compared to a round bowl, so take this into consideration if your bathroom is very small.
Finally, the look of this toilet. My first impression of this toilet was that it is nice and neat looking. The tank is not very large, making it look quite short. It certainly is a nice looking toilet though and has a sleek design. It is also worth noting that the toilet seat is not included with this toilet.
Specifications
Color : Almond, Biscuit, Black, Ice Gray, Sandbar, White
Dimensions : 29-1/2 x 17-5/8 x 30-3/4 inches
Seat Height: 16-1/2
Shape : Elongated
Material : Vitreous China
Weight : 65.6 lbs
Flush : 1.28 gallons per flush
Handle : Left Side
Certification : WaterSense
Flush System
Probably the most important consideration when choosing a toilet is its flushing power and efficiency.  It is quite easy to check how efficient a toilet is.  Just check the gallons per flush (GPF) number to see how much water is used per single flush.  A WaterSense certified toilet needs to flush less than 1.6 GPF.  The Cimarron only uses 1.28 GPF which is a 20% water saving compared to a 1.6 GPF toilet.  Now, 20% savings is excellent, however if you have a less modern toilet that uses around 3.5 GPF, then by upgrading to the Kohler Cimarron, you will really see the benefits.
The Kohler K-3609 Cimarron is WaterSense certified and meets water savings requirements for CALGreen and Colorado SB 14-103. Water rebates can be collected in certain states.

So we can see that the Kohler Cimarron is water efficient, but how about its performance.  Well, the Cimarron uses Aquapiston Technology, to deliver a powerful flush around the rim and bowl.  The Cimarron features a canister flush valve with a flapperless design that is powerful and durable, giving a solid flush every time.
AquaPiston Class Five Flushing System
This toilet comes with an AquaPiston flush valve that releases a rapid and powerful, 360 degree flush. This flush system has a class five rating, which means that it can remove up to 1,000 grams (2.2 pounds) of solid waste in one highly efficient flush.
The AquaPiston flush valve releases a greater quantity of water than a conventional flapper valve. Furthermore, the valve has a huge 3.25′′ opening, which increases the flow rate and results in a solid flush.
How Does the AquaPiston Flushing system Compare to a Regular Flapper?
The AquaPiston is very different from a regular flapper valve. What exactly sets it apart from the competition? Here are a few reasons why the AquaPiston may come out on top:
A flapper requires a higher actuation force compared to the AquaPiston because with the AquaPiston there is no pull against the pressure of the water.
The canister's seal is designed with 90 percent less exposed material than a 3-inch flapper, guaranteeing a leak-free performance.
There's no concern of warping due to rubber deterioration because there is no rubber flapper.
Overall, the AquaPiston flush system provides a powerful and efficient flush, that compares exceptionally well to any other flushing system.
Installation
The Kohler Cimarron uses a DryLock Fast Install System which is design to prevent leaks and make installation as easy as possible.
The Cimarron has a unique tank mounting mechanism called DryLock, which is one of the finest features it has to offer. It makes it simple to mount the tank without needing any bolt holes.
The lack of bolt holes also eliminates the danger of leakage due to poor connections or deterioration of fasteners and seal.
This installation system will definitely help people that want to install the toilet themselves. In fact, to connect the tank to the bowl, the only tool needed is a socket wrench (the demonstration in the video really shows how simple it is).
Standard 12″ Rough-in.
Make sure to view this short video here to not only see the Cimarron in action but also how easy it is to connect this two-piece toilet: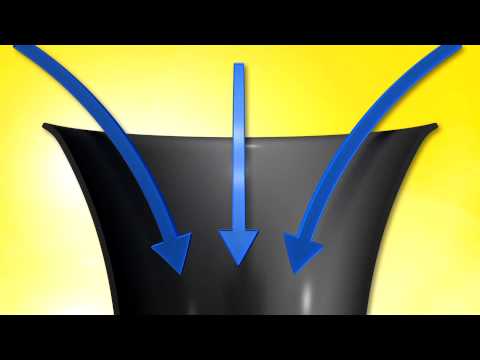 Kohler Cimarron Toilet
How Does The Cimarron Compare To A Leading Competitor
To choose a worthy competitor for the Kohler Cimarron, we have to find a toilet with similar features.  A two piece, elongated toilet, comfort height, WaterSense certified and of course highly rated.  With all of these requirements considered, I chose the Toto Drake II.
Design
The Toto Drake II is another fine toilet that competes well with the Cimarron.  First of all, they are both two piece toilets with an elongated bowl.  Secondly, Toto's equivalent of the Kohler comfort height measurements is its own Universal height measurements.  A Toto Universal Height toilet has a measurement of 17 to 18″ from floor to seat.  So both are well matched so far.
Performance
Performance wise, both are WaterSense certified, however the Drake II is a little more water efficient than the Cimarron.  The Drake II uses 1.0 GPF compared to the Cimarron's 1.28.  Both have a powerful and efficient flush that customer's rate highly when it comes to a 'A single flush is all you need' statement.  The Drake II uses the Tornado Flush Technology compared to the Cimarron's Aquapiston Flush Technology.
I have noticed that Toto boasts a CEFIONTECT glaze finish which prevents dirt particles from sticking to the bowl, where as Kohler does not advertise a similar feature.
Both of these toilets do not come with a toilet seat, however the toilet seats that can be bought separately are both slow close.
In my personal opinion, I found that the Kohler Cimarron's design looked a little better to me. If you would like to see what the Drake II looks like, then have a look at a full review here.
Price
Finally, when it comes to price the Cimarron appears to be the winner.  Although, the Toto Drake II may edge it in water efficiency, you will have to pay a little more for it.
Overall, they are both great toilets with very similar features, performance and efficiency. If you were to choose either one of these highly rated toilets, I am sure you would have made a good choice.
Kohler Cimarron
The Cimarron is a neat two piece toilet that combines performance, efficiency and comfort all in one. WaterSense certified at 1.28 gallons per flush, using powerful AquaPiston technology and a comfort height seat, it is no wonder this toilet is so highly rated.
PROS
WaterSense Certified
1.28 GPF
Powerful Flush
Comfort Height
ADA Compliant
Neat Design
Frequently Asked Questions
Is 1.28 gallons enough for a good flush?
Although a 1.28 gallons per flush may seem like a small amount of water compared to older toilets, it should still be enough to give a powerful single flush. The AquaPiston flushing system boasts a five star rating and can flush down 1000 grams of solid waste. Kohler Cimarron toilets have a flush handle, so to get the best flushing performance make sure to hold the handle for a couple of seconds to fully release the entire 1.28 gallons.
Final Thoughts on this Kohler K-3609 Cimarron Toilet Review

The Kohler K-3609 Cimarron is a very popular toilet that is highly rated by customers and it is easy to see why. 
It boasts features such as Comfort Height seating (ADA Compliant), WaterSense certified efficiency of 1.28 GPF, a powerful flush using AquaPiston technology and easy installation.