Welcome to my Kohler Highline Toilet Review.
This Kohler K-3519-0 Highline Classic is a powerful, pressure assist toilet. It has enough style to look great in any home bathroom and enough flush power to survive in any public restroom. I really like the look of this toilet and its performance is highly rated. If you would like to know if this is the right toilet for your bathroom, then hopefully this Kohler Highline toilet review will answer any questions you may have.
This page contains affiliate links. We hope you love the products we recommend but just so you know, if you purchase a product from one of our links below, we may receive a small commission. Details here.
Design
Made of Vitreous China material, this durable toilet looks fabulous. It is a two piece toilet with an elongated bowl shape. Two piece toilets are generally cheaper compared to one piece toilets, however, over time they will need some extra cleaning because of extra crevices. Compared to one piece toilets, two piece toilets have a tendency to leak. However, top brands such as Kohler, have solved such leaking issues by improving flushing systems and installation designs.
Toilet Bowl Shape
Elongated bowls are more comfortable for larger adults because they are roughly two inches longer than round bowls. Compared to a round bowl an elongated bowl will take up more space, therefore, may not be suitable for very small bathrooms. Of course, the shape and design of your preferred toilet is a personal choice.
Toilet Seat Height
This model is a comfort height toilet. A comfort height toilet is ADA compliant and suitable for a wider range of adults. It is around two inches taller than a standard height toilet, making it suitable for seniors, the disabled, people recovering from surgery and anyone else that finds it problematic using a short toilet seat. If you have never used a comfort height toilet before, it is similar in height to a kitchen chair.
The Kohler Highline Classic is a Comfort Height toilet and ADA compliant, making it suitable for a wide range of people.

The toilet bowl also has an Antimicrobial finish that prevent the growth of mold, mildew, stain and odor causing bacteria on its surface.
specifications
Colors: White
Dimensions: 30-1/8″ x 21-1/4″ x 31-1/4″
Toilet Seat Height: 17-1/8
Shape: Elongated
Material: Vitreous China
Flush: 1.0 GPF
Handle: Left Hand Trip Lever
Rough-in: 12″
Certification: ADA & WaterSense
Kohler Toilets Flushing System
Using the Sloan Flushmate system, the Kohler Highline Classic toilet is pressure assisted, instead of gravity flush system. A Flushmate vessel is used inside the tank. Inside the Flushmate vessel, air is compressed by utilising the water pressure. When the toilet is flushed the compressed air pushes the water out with force.
The beginning of this short video will demonstrate how Flushmate works: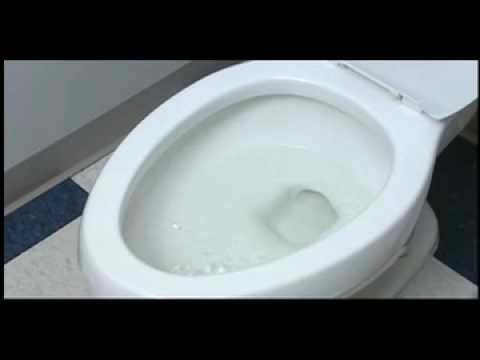 The whole flush cycle from start to full refill depends on the incoming water pressure to your toilet. Minimum static pressure needed is 20 psi and maximum static pressure should be no more than 80 psi.
Judging by customer reviews on this flush system, it is excellent. It certainly will not need more than one flush to get the largest of waste down. If there is one complaint, then it would be that the flush can be quite noisy. However, this is common for a pressure assisted flushing system. If you want a really powerful flush then it may have to be a little louder. This noise is not continuous though. It is just a sudden loud but brief release of water.
The flush is very powerful but not very quiet.

Installation
Installation should be quick and easy. In fact, the majority of people should be able to install this toilet without any expertise. The only part of installation that may cause issues is lifting and placing the tank and toilet bowl. If you have the strength and your back can take the work load, then I'm sure you will be able to self install this toilet.
You will need a wax ring to install this toilet. Also the toilet seat is not included.
I found this very detailed replace and install video of this very toilet. This video is very detailed so you can skip through some of it, however it is great to see how easy it is to install a toilet, especially this one. At the end of the video you can see the Kohler Highline Classic toilet in action.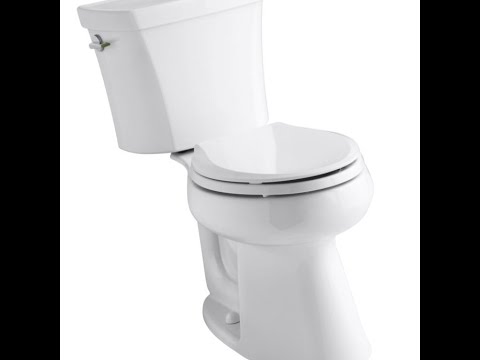 How Does The Kohler Highline Classic Toilet Compare To A Leading Competitor
This Kohler Highline Classic toilet is a top performer and will be hard to beat. To make things fair I looked for a competing toilet with similar features. A two piece, elongated, ADA compliant, 1.6 GPF (Updated: I found a Kohler Highline that uses as little as 1.0 GPF) and made by an equally respected brand. The toilet I came up with is the TOTO Drake toilet.
Now, Toto and Kohler toilets are two of the leading brands in the toilet manufacturing business. They have happy customers that swear by the quality and performance of their toilets. However, is the Highline better than the Drake, which is better value, are they both clog free toilets? Lets have a quick look.
Specs Comparison
As stated earlier, these toilets have similar specs. Both are two piece, elongated toilets. They are also ADA compliant with Comfort/Universal Height seating. The original K-3493 and the Drake both use 1.6 gallons per flush. However, this article has been updated. The Kohler Highline K-3519-0 only uses 1.0 GPF, making it far more water efficient and also WaterSense Certified.
If they both look great and have similar specifications, then all we have to compare is flush and value.
Flush Comparison
First of all, the TOTO Drake is a gravity assisted toilet. It uses a G-Max flushing system that is not only powerful but it is also quite discreet. Generally, compared to a pressure assisted toilet a gravity fed flushing mechanism is quieter . The Drake boasts a flush and refill of up to 35 seconds, which is similar to the Highline, depending on the water pressure the toilet is receiving in your bathroom.
If I had to bet on more power, then it would probably be the Highline. Generally, pressure assisted toilets have more power, however they are also a little louder compared to gravity fed toilets. However, this extra noise is brief and only happens when the water is being sucked out of the toilet.
When it comes to price, both have similar costs and both are very good value.
The Kohler Highline is more powerful and more efficient, however the Toto Drake has a quieter flush.

And the Winner is….
Both of these toilets not only look great but have very similar measurements and features. Either one would be a great choice for your bathroom. Also, both are good value and of similar price. If I had to make a choice on how powerful the flush is, to guarantee a 'one flush is all you need' toilet, then I would choose the Kohler Highline Classic. On the other hand, if I wanted an all rounder, good flush with less power but also quieter, then I would choose the TOTO Drake.
If you would like to see a full review on the TOTO Drake, then follow the link.
Kohler Highline Classic Toilet
The Kohler Highline Classic model combines comfort, looks and power. It is a pressure assisted toilet that guarantees a one flush, clog free, powerful flushing system. If you are looking for a strong flush, clog free toilet , then this unit is definitely worth considering.
PROS
ADA Compliant
WaterSense Certified
Powerful
Clog Free
Classy Design
CONS
Flush Is A Little Noisy
Toilet Seat Not Included
Kohler Highline Review: Final thoughts
The Kohler Highline Classic is a great looking toilet, with a top class flushing performance that will clear the largest of waste. It is ADA compliant, WaterSense Certified and very comfortable for most adults. As a pressure assisted toilet it packs a big punch and you can say goodbye to your plunger because it will never clog. Overall, this toilet is a great option.
I hope you found this Kohler Highline Toilet Review helpful.