Swiss Madison may not be as well known as the likes of TOTO, Kohler and American Standard, however it is a company that is developing a solid reputation for building affordable, high quality toilets. The company's top selling model is the St Tropez and the main focus of our Swiss Madison Toilet Review. The Swiss Madison St Tropez is ranking on Amazon's top 10 best sellers list (at the time of writing), so is definitely worth considering if you are on the look out for a new toilet. Lets take a closer look to see why this toilet has become so popular.
This page contains affiliate links. We hope you love the products we recommend but just so you know, if you purchase a product from one of our links below, we may receive a small commission. Details here.
Swiss Madison St Tropez Toilet Review
Design
The Swiss Madison St Tropez is a modern toilet with a smooth, sleek design and reminds me a lot of the WoodBridge toilets. WoodBridge is another smaller brand that has been manufacturing modern, classy and affordable toilets, that are getting great reviews and giving the leading brands a run for their money.
Easy To Clean
The Swiss Madison St Tropez has a smooth trapway design that not only looks fabulous, but is also very easy to maintain. This smooth base design is very popular these days and I love how easy they are to wipe and clean. Who likes to clean toilets? Not many people, so a simple and smooth base is definitely a positive feature for cleaning and maintenance.
Speaking of cleaning, this model is a one-piece toilet. One-piece toilets do not have a gap between the tank and bowl, meaning less area for dirt and bacteria to flourish. The St Tropez's seamless design makes cleaning this area so much easier.
Comfort Height
Not only is the base sleek and attractive but it is also Comfort Height.
This toilet measures 16.5″ from floor to rim, making it ADA Compliant and suitable for a wide range of users. It will measure roughly 2″ taller than standard height toilet seating and will be similar in height to a standard kitchen chair.

A Comfort Height toilet is not only suitable for taller individuals, but also the elderly and disabled. Anyone that finds it uncomfortable to stand up or sit down on a regular toilet will benefit greatly from the extra height a Comfort Height toilet provides.
Slim Tank
The St Tropez may have a little more height, however it is still quite compact.
Measuring only 26.5″ in length, this model has a small footprint and is ideal for bathrooms of all sizes. As you can see in the image above, this toilet has a slimline tank. The tank may be a little taller than many others, however this allows it to measure a little less in length and makes it more space efficient.

Also, even though it is a great space saver for small bathrooms, it still has an elongated shape bowl. Elongated shape bowls are roughly 2″ longer than standard round bowls, and are more spacious for the user to sit on. To have an elongated shaped bowl and still a compact design will be a positive feature for many people.
Slow Close Toilet Seat
Many toilets on sale today do not have a toilet seat included. Some of the toilet seats that are included, are flimsy and not very appealing.
However, when you receive a free Slow Close Toilet Seat with your new toilet, then it is a real bonus. Slow close toilet seats are fantastic for preventing slamming lids that could crack the porcelain and also if you have young children, slow close seats are a lot safer.
It's also a Quick Release toilet seat, making it even better. If you ever want to clean the hinges or the toilet bowl, then you can easily remove the seat and reattach after cleaning. No tools necessary.
Best Value Toilet?
The Swiss Madison St Tropez has a modern, sleek, easy to clean design that will look great in any bathroom. It has Comfort Height Seating but is still compact in size. A quick release, slow close toilet seat is included, making this already budget friendly toilet a real bargain buy.
specifications
Colors: White
Dimensions: 31″ Height x 15″ Width x 26.5″ Depth
Seat Height: 16-1/2″ (floor to rim)
Shape: Elongated
Weight: 110 lbs
Flush: 1.28/0.8 GPF
Handle: Button
Rough-in: 12″
Certification: WaterSense Certified & ADA Compliant
Check out this short video on the Swiss Madison St Tropez. You get to see its quick release/soft close toilet seat and dual flush options: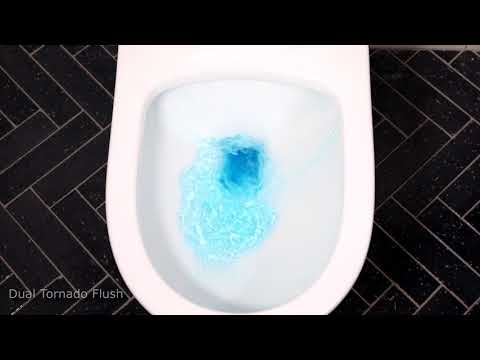 Flushing System
As this toilet is a dual flush model, it will have a choice of two flushing options. A partial flush and a full flush. The partial flush uses 0.8 gallons per flush and the full flush uses 1.28 GPF. A dual flush toilet is a great option for anyone that is environmentally conscious and would like to use less water in their home.
The St Tropez is even more efficient compared to many other Dual Flush toilets. 0.8 and 1.28 GPF is excellent and well below what is required to be a WaterSense Certified toilet. This unit will average just over 1.0 GPF, making it one of the most water efficient toilets on the market.
Installation
One-piece toilets always need more care when installing because of the heavy lifting necessary, compared to a two-piece. This unit will weigh roughly 110 lbs, therefore make sure you can handle this weight if you are attempting to install it yourself.
Not only is this unit quite heavy but attaching the bolts can also be quite tricky. One of this toilet's great features is its smooth base. The bolts are covered, making it easier to clean. However, when installing this unit, it will be a little harder to access the bolt area. You will probably need an extra pair of eyes to guide you when placing the toilet over the flange area and also need a little dexterity to get the bolts inside the base and into the holes.
A wax ring is included with this model, which is always a nice gesture by a toilet company.
Swiss Madison St Tropez Toilet
---
How Does The Swiss Madison St Tropez Toilet Compare To A Leading Competitor
When I first saw the Swiss Madison St Tropez, it didn't take long to see some of the similarities between this model and the WoodBridge T-0001. Both are smaller brands, both are budget friendly toilets and both are sleek, modern one-piece models. These two are very popular toilets and highly rated on Amazon. Let us see how they compare.
Design
The St Topez and T-0001 have many similar design features. They are both compact, one-piece, elongated toilets with a sleek, modern look. They are both Comfort Height, ADA Compliant toilets that will be perfect for a wide range of users.
The St Topez is a better space saver, measuring 2″ less in length. It is taller than the T-0001, however that won't make a difference in footprint size.

Both of these units come with a quick release, soft close toilet seat included in the price. This is unusual because most toilets do not include a toilet seat, never mind a soft close.
Flushing System
The St Tropez and T-0001 are both Dual Flush toilets and are WaterSense Certified. Either one of these models will be an eco-friendly option and a real water saver.
However, the St-Topez appears to be that little bit more efficient with its water usage. In fact, it is one of the best Dual Flush options on the market. The T-0001 uses a respectable 1.6 and 1.0 GPF for full and partial flushing options. This averages out to 1.28 GPF.
The St Topez uses 1.28 and 0.8 GPF for full and partial flushing options. That is very impressive. This toilet averages just over 1.0 GPF, making it a clear winner.
Price
Both of these models are best sellers and very popular on Amazon. They are both great value units and some of the more affordable options available. There really isn't much of a price difference between these two, so it shouldn't really affect your decision.
And the Winner is…..
How can you pick between these two great options. They are both very popular and do have so many similarities. Both are sleek, modern one-piece models with Comfort Height seating. They are easy to clean, look fabulous and cost almost the same.
The St Tropez is a winner when it comes to water efficiency. It just uses that little bit less water on average.
WoodBridge and Swiss Madison also provide a quick release, slow close toilet seat on top of an already budget friendly price.
If you still haven't decided which model you like, then this may sway your decision. The St Tropez, like many other toilets, only has a 1 year warranty. However, the T-0001 has an impressive 5 year warranty.

If you would like to see more information on the T-0001, then why not check out the detailed review. It will have all its specs, images and videos.
---
Swiss Madison St Tropez Toilet
A modern sleek, easy to clean one-piece toilet that will look great in any bathroom. Comfort height seating, dual flush options, a quick release, slow close toilet seat included. All of this at a very budget friendly price. The St Tropez is certainly a great value toilet.
PROS
Sleek Modern Design
WaterSense Certified
Dual Flush Options
Comfort Height
Easy To Clean
Great Value
Quick Release Toilet Seat
Soft Close Toilet seat
CONS
Installation A Little Complicated
Swiss Madison Toilet Reviews – Final Thoughts
The Swiss Madison St Tropez is a stylish, one-piece model that will certainly add some class to a modern bathroom. It really has a lot to like, including Comfort Height seating, a compact, easy to clean design, a quick release, slow close toilet seat and is WaterSense Certified. Yes, this dual flush toilet is one of the most efficient water savers on the market and is definitely eco-friendly.
All of this comes at a very affordable price. It really will be hard to beat this value, so if you are looking for a new toilet, then I would definitely recommend you consider the Swiss Madison St Tropez.
I hope you found this Swiss Madison Toilet Review helpful. If you have tried this model before, let us know what you thought of it in the comment section below.