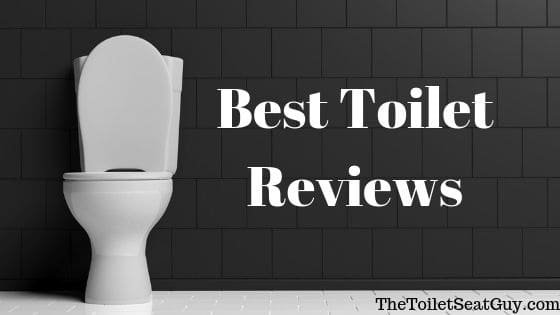 Finding the best toilet for your bathroom isn't easy.  There are many things to consider, including: size, flush performance, installation, and not forgetting price.  With all of the leading brands creating innovative toilets, how can you make sure you choose the best toilet.  Well, on this site we will help you find your ideal toilet, by providing the best toilet reviews of all the leading brands, including TOTO, Kohler, American Standard and many more.  If a toilet is worth buying then we will review it.
We will also create guides for you to easily find the type of feature you are looking for in a toilet, such as Comfort Height, Dual Flush, Tankless, to name but a few.  We are striving to make this website your go to place to find the perfect toilet for your bathroom.
To start off, on this page we will look at the Best Toilets available at the moment.  This page will include our top recommended models for a particular feature.  If you would like to see similar toilets with an emphasis on these particular features, you can click through the links provided.  If you would like more information on a particular toilet, then click through to the more detailed toilet reviews.
This page contains affiliate links. We hope you love the products we recommend but just so you know, if you purchase a product from one of our links below, we may receive a small commission, at no extra cost to you.
Here are the Best Toilets that made our Top 10 List

American Standard  Champion-4 

20 Inch Convenient Height

Saniflo Sanicompact Self-Contained
Top 10 Best Toilet Reviews & Buyer's Guide
Best Flushing Toilet
1. American Standard 2034.014.020 Champion-4 Toilet
When it comes to flushing performance, you want a powerful, efficient and quiet toilet.  There are many toilets on the market that have an excellent flushing system.  The TOTO Tornado Flushing System, the TOTO G-Max Flushing System, the Kohler AquaPistion Flushing System, to name but a few.  However, how do they all compare to the flushing performance of the American Standard Champion-4.  Lets find out.
Design
When it comes to design, this is a no frills, classic looking one-piece toilet that will fit nicely into any bathroom.  It has a trapway design on the side of the base which will take a little more effort to clean, however its one-piece design will make cleaning this toilet a lot easier.  No bacteria, dirt and grime growing between the tank and bowl, like a two piece model.  Just a wipe down with a damp cloth every now and again will keep it looking as good as new.
The Champion-4 is a Right Height toilet.  Right Height toilets measure over 17″ from floor to seat and are similar in height to a standard kitchen chair.  Right Height toilets, also known as Comfort Height toilets are an excellent choice for tall people, the elderly and the disabled.  Anyone that finds it uncomfortable or difficult to use standard height toilets will benefit greatly from the extra 2″ in height, this model provides.

The Champion-4 is made of Vitreous china, a very durable material.  The Vitreous china is also covered in an EverClean glaze finish, that will prevent bacteria, dirt and debris from sticking to the surface.  This is not only great for keeping the toilet looking new for a long time, but also for preventing any stain marks on the toilet bowl.
Flushing System
Of course, ranking as the 'Best Flushing Toilet' requires an excellent flushing toilet system.  To be honest, TOTO and Kohler have fantastic flushing toilet performances, as well.  Either brand provides highly rated toilets.  However, American Standard have proven that the Champion-4 will be very hard to beat.
This unit has the ability to move a mass 70% larger than the industry standard, and in a Maximum Performance (MaP) test, the Champion-4 received the highest rating of 1,000 grams.   So why is this toilet able to perform so well?
Flush Valve

Siphon Trapway
With an extra large 4″ flush valve, water will flow into the bowl at a rate of three times faster than a standard 2″ flush valve, two times faster than a 3″ flush valve, and one-third faster than a 3-1/4″ flush valve.  That is impressive!
An extra wide 2 3/8″ siphon trapway is larger than any other trapway in the industry.   A standard trapway measures 2″.  The Champion-4 is capable of moving 70% larger mass compared to a standard 2″ trapway and 40% larger mass compared to a 2 1/8″ trapway.  I think we can rest assured that the Champion-4 will not clog!
One slight issue with this model is that it isn't WaterSense Certified.  It uses 1.6 gallons per flush, which is pretty good but not the 1.28 GPF or less needed to meet WaterSense guidelines.  This will not be an issue for most people, however some states require toilets to meet these guidelines.  However, when you compare a 1.6 GPF toilet to a standard 3.5 GPF toilet, then significant water savings will still be made with this model.
If you are still on the fence on whether the American Standard Champion-4 is the best flushing toilet or not, then have a quick look at this short video.  It demonstrates just how amazing this toilet really is and why it received our 'Best Flushing Toilet' Recommendation (Video viewing time 2 mins):

Installation
The Champion-4 is a one-piece toilet.  In fact, it is quite a heavy one-piece toilet, weighing just under 120 lbs.  If you are considering installing this unit yourself, then you will need to be able to lift the toilet into place.  If that is not a problem, then just like any other toilets, you shouldn't have any issues installing this model yourself.  All that is needed is a standard wax ring and you will be fine.
PROS:
Powerful Flush
EverClean Glaze Finish
Vitreous China Material
Right Height
10 Year Warranty
CONS:
Not WaterSense Certified
Seat Not Included
Overall
The American Standard Champion-4 certainly has an amazing flushing system.  As you can see in the video above, it appears that it can flush almost anything.  However, it is not a WaterSense Certified toilet, which will be an issue for some states.  Not only is the flush system powerful and extremely effective, but this toilet also looks great, is easy to clean and has Right Height seating.  So if you want one of the best or maybe even the 'Very Best flushing toilet' on market, then you have got to consider the American Standard Champion-4 toilet.
Best TOTO Toilet
2. TOTO Ultramax II Toilet
The TOTO Ultramax II is one of the company's most popular toilets.  It is an attractive one-piece model that is highly rated due to its looks and performance.  Lets have a look at why this toilet is my favorite from so many other great TOTO models.
Design
The TOTO Ultramax II is a one-piece toilet.  Generally, one-piece toilets are more expensive than two-piece toilets, however for me they look better and are a lot easier to clean and maintain.  A one-piece model will not have the gap between bowl and tank to accumulate dirt and grime.  Also, two-piece toilets are more likely to leak, however this is rare with modern tank technology.
This model has Universal Height seating, making it an ADA Compliant toilet.  ADA Compliant toilets are suitable for a wide range of users because they are roughly 2″ taller than standard height toilets.  From floor to seat the Ultramax II will measure over 17″, making it similar in height to a kitchen chair.  If you feel like standard height toilets are a little short for you, then a Universal Height toilet is certainly worth considering.
Flushing System
The Ultramax II uses TOTO's very own Tornado Flushing System to powerfully, efficiently and effectively clear the bowl, each and every flush.  The Tornado Flushing System, like its name suggests, is a swirling style flush that is created by a hole on each side of the bowl.  This is one of the reasons I really like this toilet's design.  It doesn't have a rim to accumulate dirt, like a regular toilet bowl.  The rimless design is clean and easy to maintain and the tornado flush is very effective. This model only uses 1.28 GPF and is a WaterSense Certified toilet.
WaterSense Certified toilets are a necessity in certain states and will also qualify for a rebate.  WaterSense Certified toilets require a use of less than 1.6 GPF.  The Ultramax II uses 20% less water per flush compared to a modern 1.6 GPF toilet.  However, if you are upgrading from an older 3.5 GPF model, then you will make some serious water savings.