Tankless toilets are commonly used in commercial restrooms due to their power, efficiency and not needing to refill after every flush.  However, residential tankless toilets are becoming more popular.  They are stylish, compact and more effective than a regular tank toilet.  In this article,  the best tankless toilet reviews, I will be reviewing some of the top tankless toilets available on the market.  However, before we start, lets find out what a tankless toilet is and how it differs from a traditional toilet.
This page contains affiliate links. We hope you love the products we recommend but just so you know, if you purchase a product from one of our links below, we may receive a small commission. Details here.
What Are Tankless Toilets?
As the name suggests, tankless toilets are toilets that don't use a tank in the flushing process.  Instead of receiving water from a tank, a tankless model receives water directly from the water supply line.  The water arrives into the toilet bowl at a high enough pressure to effectively remove waste from the bowl and into the drainage system.
As stated earlier, tankless toilet models are very popular in commercial residence, for a number of reasons.  They are powerful enough to remove heavy waste, they do not need to refill and they are heavy duty enough to withstand a lot of use.  All of these qualities are needed in a commercial setting where a toilet will be used very often.
Most commercial buildings and some residential buildings have enough water pressure to power a tankless toilet, however some households will need the assistance of an electric pump to gain enough water pressure.  Instead of using gravity and a tank full of water, a tankless toilets use a flushometer.  A flushometer is a device you have probably seen in many public restrooms.  A flushometer is activated automatically or when the toilet is manually flushed, and will release a metered amount of water into the toilet bowl.  A low volume of water is all that is needed to give a very powerful flush and no refill is necessary.  Sounds great, right?
Difference Between Regular Toilets and Tankless Toilets
Tank toilets use gravity and water to siphon waste out of the bowl and down into the drainage system.  When the toilet is flushed, water in the tank is released into the bowl.  With the help of gravity and water force, waste is siphoned down and out of the toilet.  This whole process needs roughly 10 pounds per square inch (psi) of water pressure.  All households can provide this amount of water pressure, so tank toilets are widely used.
However, tankless toilets will need more water pressure to function effectively.  A flushometer is used to activate this high pressure flush and provide enough power to clear the toilet waste.  To perform efficiently, a flushometer will need at least 15 to 20 psi.
Tankless toilets provide a more powerful flush and use the same or even less water than tank toilets.  If you are interested in trying a tankless toilet, then lets have a look at some high quality models below.
Best Tankless Toilets: Reviews
TOTO neorest 700H review
TOTO Neorest 700H
The TOTO Neorest 700h is a luxury washlet, that will add a lot of comfort and pleasure to your bathroom experience. This tankless model, is not only compact, but is also loaded with features that will have you sitting on this toilet for longer than you should. It is that awesome!
Design

Flush System

Installation
Design
Made of the finest Vitreous China materials, the Neorest is a beautiful looking toilet that will add a lot of style to your bathroom. Its tankless and compact size, will make it a great choice for small bathrooms. Also, its smooth skirted design is very easy to clean. A wipe with a damp cloth every now and again should keep this washlet looking brand new for years to come.
Due to the fact that this toilet is a tankless model, it is very compact in size and a great space saver. However, it is still a Universal Height toilet and measures over 17″ from floor to seat. Being ADA Compliant, the Neorest will be suitable for a wide range of users.
Of course, the Neorest is a luxury toilet and will have many features for you to play with. Many of these features are automatic and also motion activated. For example, the toilet lid will automatically open and close when you enter and leave the washlet's vicinity. It will also automatically flush after you have finished using it.
Now for the real luxury features. To name but a few, it has a bidet function that will wash both the front and rear. It also has a warm air dryer with a temperature control. And it will not only keep you fresh but also the bathroom, with its very own air deodorizer. Not forgetting the heated toilet seat, that will keep you nice and warm during those late night visits to the toilet, during winter. This awesome toilet has it all.
Flushing System
The Neorest may have an attractive design and excellent features but how does it perform. Well, being a tankless model this toilet will use water pressure to clear out waste, powerfully and efficiently. Using TOTO's Tornado Flushing System, this model is highly efficient and WaterSense certified. A WaterSense certified uses less than 1.6 gallons per flush (GPF) and is great for the environment and great for your wallet too. Depending on where you live you may receive a water rebate with this model.
The Neorest is a dual flush toilet that uses 1.0 GPF and 0.8 GPF. For a liquid waste flush, 0.8 gallons per flush is needed, however for a solid waste flush all that is needed is 1.0 GPF. This toilet is highly efficient and will make some serious water savings over time.
This tankless model only needs a flowing water pressure of 7 psi, so all households will be able to use the Neorest (A minimum flow rate of 2.64 gallons per minute is necessary).
Installation
I usually advice people to give installation a shot themselves, however a luxury toilet like this may need some expertise to install correctly. This toilet isn't cheap and it is a complicated piece of equipment. So unless you are very handy at this sort of stuff yourself, then maybe a professional will be needed.
It is also worth noting that this tankless toilet has a 4 foot power cord, so will need to be within that distance to a power outlet.
Overall
The Neorest 700H is a stylish, attractive and luxurious toilet that will look fabulous in your bathroom. It is tankless, compact, ADA compliant and easy to clean. However, it is its amazing features that make it truly stand out. Packed with features that will make your bathroom experience first class, this toilet is truly a five star model.
TOTO Neorest 700H Tankless Toilet
Kohler Veil Intelligent Toilet Review
Kohler Veil Intelligent Toilet
Just like the Neorest is Toto's masterpiece, the Veil Intelligent is Kohler's equivalent. How smart is this tankless toilet? Well, it appears pretty intelligent to me. Lets have a look at what it has to offer.
Design

Flush System

Installation
Design
The Kohler Veil Intelligent is a one-piece, tankless toilet with a smooth skirted design. This compact model is both modern and stylish and definitely looks the part of a luxury toilet.
Its smooth skirted design will be very easy to clean and maintain. Just like the Neorest above, this toilet is compact in size and with its tankless design, will be a great space saving toilet. Although it is compact, it is still a Comfort Height toilet and ADA Compliant. From floor to seat, it measures over 17″, making it ideal for taller individuals, the elderly and anyone else that prefers a taller toilet, compared to standard sized models.
The Kohler Veil has many features and will make using the toilet a lot of fun. Of course, a luxury toilet will have a bidet function with a front and rear option. The spraying wand has an adjustable spray shape, position, water pressure, temperature, pulsate, and oscillate functions.
Not only will this bidet wash you but there is also a warm air dryer to freshen you up after. Of course, the bathroom may need freshening up also, so Kohler have you covered. An automatic air deodorizing system will keep your bathroom smelling fresh everyday.
A heated toilet seat, motion activated opening of seat and lid, self cleaning and sanitizing of the bowl, yes, this smart toilet has it all and more.
Flushing System
There is no denying that these top brands compete against each other for the best performing, most efficient toilet on the market. The TOTO Neorest set the benchmark, however the Kohler Veil is a worthy match.
This tankless toilet also has a dual flush system. It is WaterSense certified and only uses a maximum of 1.28 GPF. For a full flush it uses 1.28 GPF, however for a half flush it only uses 0.8 GPF. Now, if you compare this to a modern 1.6 GPF toilet, a 1.28 GPF toilet will use 20% less water per flush. However, when you are using a partial flush for liquid waste also, then you will make some serious water savings.
Of course, since this is a tankless toilet, it will not only be water efficient, but will also be very powerful.
For the best performance, the Veil Intelligent requires a minimum water supply flow rate of 9.0 gallons per minute or 1.5 gallons per 10 seconds. This appears to be a lot higher than the Neorest (2.64/min). It is definitely worth knowing your water pressure and flow rate before installing one of these toilets. It will work with a lower water pressure but it may not work as optimally as it should.
Installation
As stated earlier, these luxury toilets are high tech and not cheap either. They will need a 120V 15A outlet nearby and should be installed by a plumber. If you do not have any expertise installing these units, then maybe you should let it to the professionals.
Overall
The Kohler Veil Intelligent toilet certainly is a very smart model. It is compact, extremely comfortable and is loaded with awesome features. It is a luxury toilet and comes at a luxury price. However, if you can afford it, then this tankless toilet is a model you should definitely consider.
Kohler Veil Intelligent Tankless Toilet
Saniflo Sanicompact Toilet Review
Saniflo Sanicompact Self-Contained Toilet
The Saniflo Sanicompact self-contained toilet is a little different to the two luxury models above. This tankless model is a macerating toilet and works very differently to regular tankless toilets. Instead of using gravity and water pressure to flush waste down the drainage line below the toilet, this unit takes waste out through the back. The main reason it can do this is because there are macerating blades inside this self-contained unit that will cut up waste into tiny particles, allowing the waste to easily pass through the drainage pipe behind.
Why would this no tank toilet be beneficial compared to a regular flush toilet?
Well, this macerating toilet can be set up in any room that has a water supply, for example, a sink. You won't have to open up the flooring underneath either. Just connect the sink to the toilet, the toilet to the drainage pipe and also to the water supply.

Plug the Saniflo Sanicompact into the electric outlet and it is ready to go.
It may be easier to understand through this short demonstration video: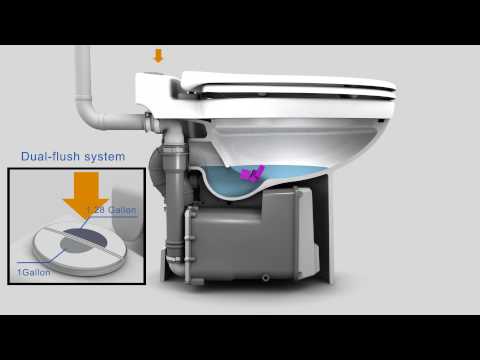 Design

Flush System

Installation
Design
As you can see, this toilet is smooth, compact and a great space saving option. Its smooth skirted design makes it so easy to clean and maintain because there are no intricate designs to accumulate dirt. Just a wipe down with a damp cloth is all this unit will need.
As this toilet is so versatile, it can be set up in any room with a water supply and drainage pipe. Many people set this tankless toilet up in a half-bath or convert a wardrobe into a mini bathroom.
It may be compact but it has a high seat height. From floor to rim this unit measure 18.5″. This is a really high toilet and I can see it being of great benefit to the elderly and people with a disabilities.
Flushing System
As you can see in the demonstration video above, the Sanicompact is a very versatile toilet that can fit in the smallest of bathrooms. It has a powerful flush that is also highly efficient. And of course it is WaterSense certified because it only uses 1.0 GPF. When you compare this model to most modern toilets that use a respectable 1.6 GPF, it uses 30% less water per flush. In fact, by using this 1.0 GPF toilet, you will save 5,000 gallons of water per year versus a 1.6 GPF toilet.
Installation
As you can see in the video, installing this toilet is not that difficult. The unit itself isn't that heavy and it is quite simple to connect to the floor. Unlike most other macerating units, the Sanicompact does not need a ventilation system because it has a built in vent.
Overall
This versatile toilet is great for small bathrooms or if you want to convert a room into a half bathroom. It is powerful, efficient and looks great. Its high seat is also great for a wide range of users. If you are looking for a tankless toilet, then the Saniflo Sanicompact model is worth considering.
Saniflo Sanicompact Self-Contained Toilet
Bio Bidet IB385 Toilet Review
Bio Bidet IB385 Toilet System
Are you looking for a bit of luxury, for a more affordable price? Well, TOTO and Kohler are two of the big guns when it comes to toilet manufacturers and their toilets are certainly high quality. However, when you have a big brand, you also have a premium price. Well, this toilet system by Bio Bidet won't be as well known, however it appears to provide a competitive product at a reasonable price. Lets see how it compares.
Design

Flush System

Installation
Design
It has a compact, sleek design that will suit most bathrooms. Its tankless and smooth skirted shape will be easy to clean. Also, it is made of Vitreous china, which is a strong and durable material. Although compact, it still has a seating height of over 17″. So overall, it looks great, will be easy to clean and also has a nice seat height.
What about its features? Does it compare well to the bigger brands?
Well, it has a

2 in 1 nozzle bidet that will wash front and posterior with warm water. The water spray also pu

lsates. It is good to see it has a heated seat for that added comfort on cold winter's nights. A warm air dryer feature is available and also an air deodorizer to freshen up the bathroom. Auto flushes and a self cleaning feature is also available. To top it off, it has a soft close lid.
From what I can see, it doesn't have an automatic opening and closing of the toilet lid like the other two models.
However, overall this unit has a lot to offer and provides a big bang for the buck.
Flushing System
This model has an automatic flush similar to the Neorest and Veil Intelligent, however it is not as efficient with its water usage. This unit needs 1.6 GPF, which is quite average for a modern toilet. Then again, when compared to a standard toilet that uses 3.5 GPF, it is still very efficient. However, it is not WaterSense certified.
Installation
Similar to the other luxury models, this tankless toilet needs to be installed near an electrical outlet. You may need an electrical outlet installed near where you will place this unit.
That being said, Bio Bidet think that the installation is easy enough to do and provide an easy to follow step by step guide. All of the installation parts are included with the unit. All you will need is a Phillips Screwdriver, Drill with 3/8″ bit, and an adjustable wrench. They also provide a full technical support line to call for advice, if you need any assistance with the installation process.
Overall
The Bio Bidet IB385 appears to be a great tankless toilet. It really compares well to the bigger brands and is a lot cheaper. It has all of the smart toilet features you would want and will make the whole bathroom experience a real pleasure. If you are looking for a luxury tankless toilet, at a more affordable price, then this Bio Bidet IB385 is a highly rated option.
Bio Bidet IB385 Toilet System
TOTO G400 Washlet Review
TOTO G400 Washlet
Having already reviewed the TOTO 700H above, I was a little unsure whether to review the 550Hor not. It has so many similar features, looks almost the same and the price tag is the same also. The only difference it seems is that the 700H is that little bit larger.
However, then I found the TOTO G400 and decided this tankless toilet is definitely worth reviewing. Why? Mainly due to its price. It is less than half the price of the 700H and 550H. Obviously, with a much lower price tag you will miss out on some features , however these features may not be deal breakers. Instead of telling you what this tankless toilet has to offer, I will concentrate on what it doesn't have compared to the 700h and 550h.
Design

Features

Flush System

Installation
Design
First of all, this toilet is a washlet and will look quite similar to the other models. It is compact and perfect for small bathrooms. It is sleek, smooth and easy to wipe clean. Compared to the 700H, the G400 is a little shorter in length but a little taller in height at the rear. That being said, from floor to toilet seat, it is the same height at just over 17.5″. Therefore, the G400 is ADA Compliant.
Features
The G400 has all the great features that the 700H has, which include front and rear cleanse, a choice of water settings, automatic opening and closing of the seat, heated seat, a self cleaning wand, an auto energy saver, seat sensor, water temperature control, air deodorizer, air dryer and automatic flush.

Sounds great right? Well lets just look at what the G400 doesn't have compared to the other two models.

The G400 doesn't have the ewater+ disinfection system. The ewater+ mist, sterilizes the wand and bowl with electrolyzed water, reducing the need of using harsh chemicals. Also, the G400 doesn't have an instant water heater. Unlike the 700H, there is not unlimited warm water in the G400 model. Another difference is that the 700H offers the option of a wider front cleanse. And finally, the G400 doesn't have a night light, however a night light could be added separately.

So there you go, would you consider these differences major ones?
Flushing System
The flushing system should be very similar as they are all TOTO models and they use the Tornado Flushing System. This system uses 3 nozzles to provide a tornado like flush around the bowl that is powerful and rinses well. Add to this the excellent ceFiONtect glaze finish that prevents particles from clinging to the ceramic surface. The G400 is more than a match for keeping the bowl looking clean and new for a long time.
The G400 is WaterSense certified and is highly efficient. However, it does use a little bit more water compared to the other two models. The 700H and 550H use 1.0 GPF and 0.8 GPF. The G400 is also a dual flush toilet, however it uses 1.28 GPF for solid waste and 0.9 GPF for liquid waste. This is still a great water saving toilet, though. Just not as efficient as the the other two.
Installation
As with all of these TOTO models that need an electrical outlet, it is a little bit more complicated to install them compared to a regular toilet. However, according to TOTO, if you have some DIY skills, then you should have no problems installing it yourself. I guess the biggest issue is having an electrical outlet near the toilet. Other than that, this tankless toilet , weighs around 100 lbs, so make sure your back can handle lifting it in place.
Overall
The TOTO G400 is a great toilet that compares very well to TOTO's more expensive models. If you find the differences between these TOTO toilets nothing major, then price should definitely come into consideration. The G400 is less than half the price of the 700H and 550H and offers so many of the great features.
TOTO G400 Washlet
best tankless toilet reviews buyer's guide
Buyer's Guide
Things To Consider When Buying Tankless Toilets
Budget

Water Pressure

Features

Wall-mounted
Budget
Most tankless toilets do not come cheap. The reason for this is not because a tankless design will cost a lot more, but because a no tank model usually has many features included. Many tankless toilets are luxury models with lots of great features, however one of the toilets reviewed above is a macerating toilet. Luxury toilets are quite expensive but they do look great and definitely bring a five star hotel experience to your bathroom.
Water Pressure
A tankless toilet does not have a tank full of water ready to cascade into the toilet bowl. A tankless toilet is directly connected to a water supply and receives its flushing water when a flushometer is activated. Tankless toilets need enough water pressure to clear the waste in the bowl. Many private homes do not have enough water pressure to for an effective flush, therefore an electric pump is often needed to give some extra power.
Features
Most of the tankless toilets reviewed in this article are luxury models. These toilets have some wonderful features that will make using the bathroom a very comfortable experience. Some of these models are a lot more expensive than others, so make sure you know which features are necessary for you.
Wall-mounted
Although, not technically a tankless toilet, if you are only interested in looking for a toilet that doesn't have a visible tank, then you may want to consider wall mounted toilets. Wall mounted toilets do have a tank, however they are hidden behind the wall. Wall hung toilets look fabulous and are great space savers, however they do take a lot of effort to install and professional installation will be expensive.
Pros And Cons Of Having Tankless Toilets
Is having a tankless toilet worth the extra cost? Lets have a look at some of the benefits of having tankless toilets:
Powerful Flush – There is a reason why most commercial buildings use a tankless toilet. Commercial restrooms experience a lot of use and in many cases can be busy all day. It is essential that the toilet won't clog and flushes effectively and efficiently, each and every time. This is why a tankless toilet using a higher water pressure does a great job.
No Refill Time – A tankless toilet doesn't have a tank to refill every time it flushes. When tankless toilets flush, manually or automatically, water is taken directly from the water supply line. This means there is no down time between flushes. Every time a flush is needed, the water is activated. This is another reason why tankless toilets are so popular for commercial restrooms.
Compact Design – One of the major reasons tankless toilets are so beneficial, is their compact design. A tank is a major part of a regular toilet and can take up a lot of space. Tankless models are neat and tidy and are great for small bathrooms.
Features – Many tankless toilets are also luxury units, therefore they are extremely comfortable and have fantastic features.
Negatives Of A Tankless Toilet
Here are a couple of reasons a tankless model is not as good as a regular toilet:
Lack of Water Pressure – Most private homes just do not have enough water pressure to run a tankless toilet effectively. If the water pressure is too low, then the toilet's performance will not be optimal.
Expensive – As stated a number of times, these tankless models are also luxury items. Purchasing a luxury toilet isn't cheap.
Final Thoughts
Overall, tankless toilets are compact, powerful, efficient and look great. I really love the modern, stylish, space saving design of a tankless toilet. Their performance is unquestionably high standard and with all of the features these models have, they bring a real element of luxury to your bathroom experience. Although expensive, one of these tankless toilets would definitely be a great investment.
I hope you found these best tankless toilet reviews helpful and were able to find a model suitable for your bathroom.