Are you looking for a toilet for an area of your home that cannot use a standard toilet flushing system. Maybe you want to set up a toilet in your basement or have ideas to build a half bath, or maybe you want to convert that closet area into an en-suite bathroom. Well, this Saniflo Macerating Toilet Review may be of help to you.
The macerating toilet we will be focusing on in this review is the Saniflo Sanicompact Self-Contained Toilet. It is the company's most popular model and it's easy to see why. It is compact, efficient and is getting great reviews. Before we dive into the review, lets find out more about a Macerating Toilet.
This page contains affiliate links. We hope you love the products we recommend but just so you know, if you purchase a product from one of our links below, we may receive a small commission. Details here.
Standard Toilets Vs Macerating Toilets
A macerating toilet is quite different to a standard flushing model. A standard toilet uses gravity or pressure to flush liquid and waste down a drainage pipe and out into the sewage system. Of course, this drainage pipe is essential for a standard toilet because it is placed over it. However, what happens if you you want to place a toilet in an area without this drainage pipe?
Well, you could rip open the flooring and build a drainage system, however this is expensive, messy and a whole lot of work. Also, you may not be able to do this in an area of your home where you want to have your new toilet. This is where a macerating toilet can be a great option.
What Is A Macerating Toilet?
A macerating toilet has all the benefits of a standard toilet without the need to have a drainage system underneath the toilet. Instead of waste being flushed down the drainage pipe, it is removed through a thin pipe at the back. The reason waste is able to fit through a thin pipe is because of the macerating action that cuts up the waste into tiny particles. The waste is cut up by a set up blades inside the macerating system and then flushed out the back.
As a macerating toilet doesn't need gravity to move waste, the drainage pipe does not need to travel down. In fact, the macerating system is capable of pumping waste through the pipe, up to 9 feet vertically and 100 feet horizontally.
What Are The Benefits Of A Saniflo Macerating Toilet?
There are many benefits of using a Saniflo macerating toilet system, including:
Versatility – If you want to set up a toilet in a specific area that doesn't have a sewage outlet, then a macerating toilet is a great option. A macerating toilet is a suitable choice for a half bath, basement toilet or even a converted closet toilet.
Easy To Install – No need to rip up floors and remodel your sewage system to install a macerating toilet.
Efficient use of Water – A Saniflo macerating toilet is water efficient and an eco-friendly option.
Convenience – These toilets do not have to be forever. If you ever decide that you don't want or need the macerating toilet in that room anymore, it will be easy to remove and not leave a big gaping hole in the floor.
PROS:
Water Efficient
Toilet Seat Included
Versatile Location
Compact, Space Saver
Easy To Clean Design
Great For Half Baths, Closet Or Basement Bathrooms
The Saniflo SaniCompact Self-Contained Toilet
So what makes the Saniflo SaniCompact Self-Contained Toilet the best macerating toilet on the market.
specifications
Colors: White
Dimensions: 18.5″ Height x 14.5″ Width x 21.5″ Depth
Seat Height: 15.75″ (floor to rim)
Shape: Elongated
Weight: 67 lbs
Flush: 1.28/1.0 GPF
Handle: Button
Warranty: 2 Years
Why The Saniflo SaniCompact Toilet Will Be A Good Choice For You:
Compact
The Saniflo SaniCompact is a tankless, compact toilet that is a great space saver. This model measures just 21.5″ from front to back. Compared to an average tank and bowl toilet, measuring around 28″ to 30″ in length, this unit is so much smaller. This Saniflo toilet would be a great choice for small bathrooms or half baths.
Self-Contained
The Saniflo SaniCompact unit is self-contained, meaning all of the macerating is performed within the unit. Most other macerating units have a small tank at the back of the toilet, where the waste is macerated before sending it off through the pipe. The SaniCompact is a one-piece model and everything is performed inside. When all of the waste is macerated it will be passed straight into the pipe connected to the back.
Self-Ventilated
Unlike other macerating units, the Saniflo self-venting system does not require a vent pipe.
Dual Flush/ Low Water Consumption
The Saniflo SaniCompact has a dual flush option to help conserve water. This unit compares very well to other Dual Flush toilets. A full flush will use 1.28 gallons of water per flush, where as a partial flush will only use 1.0 GPF.
Saniflo SaniCompact Self-Contained Toilet
Installation
The Saniflo Sanicompact is unlike regular toilets, therefore unless you have the skills of a plumber, maybe it is best to hire a professional to install this unit. Some parts of the installation may be a little complicated, so it is best to get it right from the beginning.
If you would like to see a little bit of the installation process, then this short video should give you an idea of what it entails: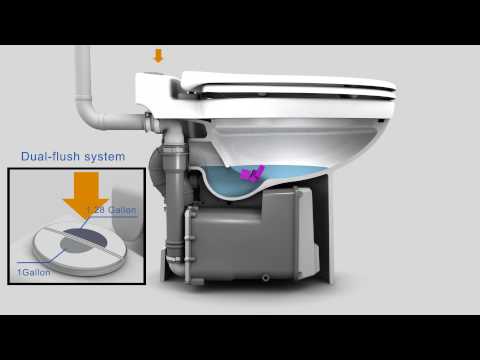 Saniflo SaniCompact Self-Contained Toilet
The Saniflo SaniCompact Self-Contained Toilet is a one-piece macerating unit that will be ideal for small areas. This compact model has dual flush buttons and low water consumption. If you are looking for a macerating unit for a half bath or closet convert, then this compact unit would be a great option.
PROS
Compact
Dual Flush
Low Water Use
Easy To Clean
Toilet Seat Included
Great For Half Baths, Closet Or Basement Bathrooms
Final Thoughts
A macerating toilet may not be a first choice toilet for everybody, however for certain circumstances they can be very useful. Macerating toilets are very convenient to install and do not need a drainage system like a regular toilet will need. If you would like to convert a closet into a mini bathroom, or convert your basement into a second or third bathroom, then a macerating unit is definitely worth considering.
The Saniflo SaniCompact Self-Contained Toilet is one of the most popular macerating models on the market. As its name suggests, the main reason it is so popular is due to its size, self-contained macerating system and self-venting system. This macerating toilet is a one-piece unit, very compact and would be ideal for small bathrooms and half baths.
A macerating toilet will need some care when installing, therefore a plumber is recommended.
We hope you found this Saniflo Macerating Toilet Review helpful. Have you experience of macerating toilets? Have you tried a Saniflo macerating toilet? Let us know your thoughts in the comment section below.