The Kohler K-3978 Wellworth is an elegant two piece toilet that will look great in most bathrooms.  It has a powerful 1.6 gallons of water per flush system that is reliable and efficient.  This Kohler Wellworth toilet review will have a closer look at this affordable model so that you can see if it is the right fit for your bathroom.
This page contains affiliate links. We hope you love the products we recommend but just so you know, if you purchase a product from one of our links below, we may receive a small commission. Details here.
Design
First of all, this toilet is at an affordable price because it is a standard model. It may be available at a budget price, however I still believe it is a classy looking toilet. I especially like the neat and elegant tank design and wouldn't mind it in my toilet.
Height
When I say that it is a standard toilet, I mean that it has basic modern features.  First of all, it has a standard height seat.  Many Kohler toilets have a Comfort Height seating which are over 17 inches tall (measured with seat).  Comfort Height toilets are ADA compliant and great for tall people and people with disabilities. 
However, the Wellworth only has a standard height seat of roughly 14.5 to 15 inches.  Not so great for tall people or people that have problems standing up and sitting down.  On the other hand, the standard height seat is ideal for shorter people and households with young children.
The Kohler K-3978 Wellworth is not a Comfort Height toilet.

Two-piece
Secondly, the Kohler Wellworth is a two piece toilet. Two piece toilets are easier to install because you don't have to lift a heavier one piece into place. However, two piece toilets are more difficult to keep clean because dirt and mold can easily accumulate in the gap between the tank and bowl.
Shape
Finally, this model has an elongated shape. An elongated bowl is around two inches longer than the round version. This means that it will be more comfortable for larger people. A round bowl can be great for children and small adults but not so great for larger adults. Remember that an elongated bowl will take up a little more space as well, so if your bathroom is tiny, then a round bowl may be more suitable.
specifications
Color: White
Dimensions: 30 x 18 x 28-7/16 inches
Seat Height: 14.5 inches
Shape: Elongated
Material: China
Flush: 1.6 GPF
Handle: Left-side
Rough-in: 12″
Flush System
The flushing system is gravity fed and uses 1.6 gallons of water per flush.  For a modern toilet this is quite average, however it is a huge improvement on older models.  If you are upgrading from an old standard toilet, then it is worth noting that the old toilet used on average 3.5 gallons per flush.  That is quite a difference.
It is a water efficient toilet, however not WaterSense Certified.

This toilet uses Class Five Flushing Technology that has a powerful flush every time.  It also has an extra cleaning rinse after every flush that will give the bowl an extra clean.
The extra large flush valve allows water to flow into all sides of the bowl, increasing the effectiveness of each flush.

Compared to a 3" flapper, the durable canister is 90% less exposed, which provides a leak-free performance.

Only a small area of the red seal is exposed to tank water, so it will last longer.
Have a look at this short video to see the Class Five Technology in action: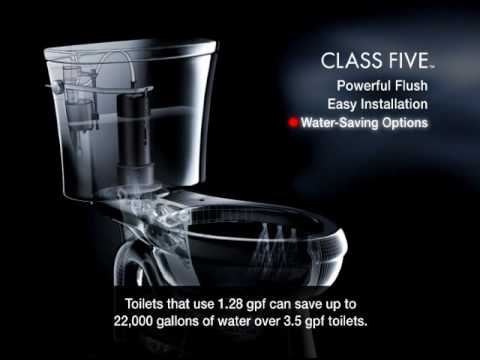 Installation
To install one of these toilets is quite easy. A three bolt installation makes it simple to connect the tank to the bowl. You will need to purchase a wax ring and the bolts separately as they are not include with the purchase. The most difficult part of installing these toilets is lifting the bowl and tank. If you are strong enough to lift the bowl and tank, then you should be able to install the tank without the need of a professional.
(Seat is not included)
To see how easy it is to install a toilet, have a look at this short installation video from Kohler: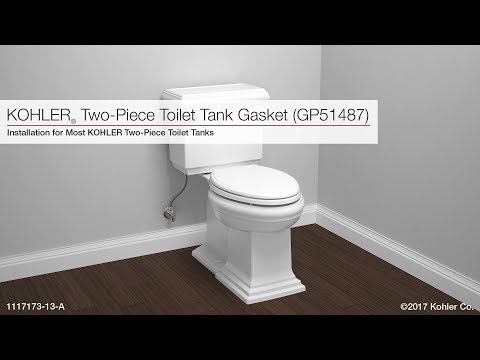 Kohler Wellworth Toilet
How Does The Kohler K-3978 Wellworth Toilet Compare To A Leading Competitor
The Kohler K-3978 Wellworth is a great value, high performance, classy looking toilet.  Therefore, I will need to find a toilet with similar qualities.  The toilet I have chosen is the TOTO Drake.
Price
Both of these toilets are great value and good for lower budgets. They do not have any fancy features, however they are solid toilets and will definitely look great in any bathroom.
Height
The Kohler K-3978 is a standard height toilet.  This means that it will measure roughly 14.5″ from floor to seat. A standard height toilet may be a little short for some people.  The TOTO Drake is an ADA Compliant toilet that is Universal Height.  A Universal Height Toilet will be over 17″ from floor to seat.
Being ADA compliant means it will be suitable for people with disabilities.  It is also suitable for tall people and people that have difficulty standing up and sitting down.
The TOTO Drake is ADA Compliant, the Kohler Wellworth is not.

Flush
Both toilets use 1.6 GPF and are not WaterSense certified.  The TOTO Drake uses a G-Max flushing system, where as the Kohler Wellworth uses the Class Five Flushing Technology system.  Both toilets have a good quality flush and although they use more water compared to toilets with a lower GPF, they are still efficient.
Both use 1.6 GPF but are not WaterSense Certified.

And the Winner is….
The Kohler K-3978 Wellworth and the Toto Drake are both highly rated toilets and very good value of similar price.  They both look great and have powerful and efficient flushing systems.  The only difference between these two, is the seat height. 
Therefore, if you would like a seat height that is taller than a standard height toilet, then the TOTO Drake is more suitable for you.  However, if you prefer a shorter seat height, then the standard Kohler Wellworth will be a perfect choice for you.
If you would like to see a full TOTO Drake Review, then follow the link.
Kohler Wellworth Toilet
The Kohler Wellworth is an elegant, great value toilet. It is a two piece unit with an elongated shape and a standard height seat. If you are looking for a no frills, budget friendly toilet, with a powerful flush, then you won't go wrong with the Kohler Kohler K-3978 Wellworth.
PROS
Great Value
Powerful Flush
Elegant Design
Easy Installation
CONS
Not Comfort Height
Not WaterSense Certified
Toilet Seat Not Included
---
FAQ
Where is the Kohler Wellworth Toilet Manufactured?
The Kohler K-9238 is made in the United States.
What Are its Dimensions?
Overall Height Top to Bottom: 29.25″
Overall Width – Side to Side: 18″
Overall Depth – Front to Back: 27.75″
Overall Weight: 86.3 lbs
What is the Rough-in Measurement?
What is the Class Five Flush Like?
The Kohler Wellworth uses class five flush technology and can flush up to 1000 grams of solid waste per use. It has an extra wide flush valve that allows plenty of water to powerfully and efficiently remove the largest of loads.
Final Thoughts
The Kohler K-3978 Wellworth is another classy model from Kohler.  It is great value at a good price.  A two piece, elongated toilet, the Wellworth has a standard height seat, so it is more suitable for people of average height and below.  It has a good flushing system using 1.6 GPF but is not WaterSense certified.  However, as you can see in the images, this toilet looks great.
I hope you found this Kohler Wellworth Toilet Review helpful.  To see some more Kohler toilet reviews, click on the image below.