Welcome to my TOTO Ultramax II Review.
Finding the perfect toilet for your bathroom can be a difficult task these days. The number of brands to choose from can be overwhelming. Add to the mix, new technology, brand new features and designs. It is no wonder people get confused on what to look for.
So to help you with your decision, we wrote a review guide on some of our favorite Toto toilets. However, in this article we present a TOTO Ultramax II review and will go in to more detail on this toilet. This toilet is very popular among consumers not only because of performance, technology and appearance but also because Toto is such a well-respected brand in the industry.
Its classic design has been one of the more popular ones among homeowners but let us see if this toilet is a worthy investment for your home's bathroom.
Is this really the best toilet out there? Keep on reading to find out below!
This page contains affiliate links. We hope you love the products we recommend but just so you know, if you purchase a product from one of our links below, we may receive a small commission. Details here.
Features and Benefits
The TOTO Ultramax II is one of the most popular choices among consumers when it comes to one-piece models. It has an attractive design and receives a lot of praise for its solid construction.
So lets begin with some of the best features of the TOTO Ultramax II:
Incredible Double Cyclone flushing system
Its flushing system is very important for two reasons. Firstly, this toilet features a single flush by using the Toto Double Cyclone flushing system. This flushing mechanism pulls the flush water into the bowl and causes it to exit with added force. This extra power allows it to completely get rid of toilet paper and waste in just one flush. This is great for the toilet as it will help the bowl stay cleaner in between washings.
Secondly, the flushing mechanism is great because it uses less water per flush. This toilet consumes as little as 1.28 gallons per flush and is WaterSense certified. This means you have the potential to save a significant amount of water usage per year.
Check out this short video demonstrating TOTO's Double Cyclone Flushing System

(Viewing time 3.10 mins)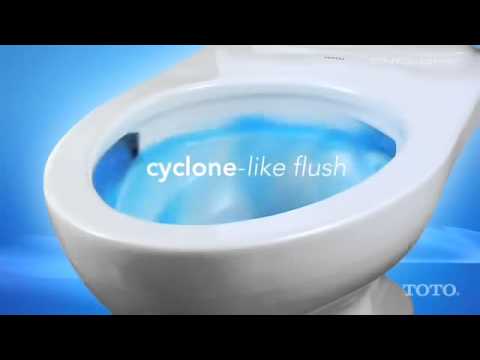 Easy maintenance
The Ultramax II has an elongated bowl design which looks sleek and modern, giving your bathroom an elegant look. It is also designed to handle more capacity and minimize the risk of clogging and flooding.
The rim of the bowl is designed without holes, making it a lot easier to clean. What is more, the seat surface has been coated with a unique finishing, called SanaGloss. SanaGloss is a smooth coating formulated by TOTO itself. This coating not only makes the toilet's seat as shiny as a mirror but it also guarantees that nothing will stick to the bowl. This coating will prevent the build-up of odor causing bacteria and germs around the toilet.
The other benefit of having this special glazing is less cleaning is necessary. You will no longer need to use harsh chemicals to rub grime away from this toilet. That alone sounds great,right?
The Toto SanaGloss glaze finish will prevent bacteria and odors from developing on the toilet bowl

Specifications
Color : Cotton White
Dimensions : 28-3/8 x 16-5/8 x 28-3/4 inches
Toilet Seat Height : 17-1/4 inches
Shape : Elongated
Material : Vitreous China
Weight : 99 lbs
Flush : 1.28 GPF
Handle : Left Side
Certification : WaterSense and ADA Compliant
Ease of use
As I already mentioned, the bowl style is elongated. An elongated shaped bowl will help distribute your weight evenly on the toilet.  This will make sitting on the toilet a lot more comfortable.  This is especially important to elder people as well as those with disabilities or suffering from back problems. They no longer need to squat down low because of its elongated bowl design and therefore, it is easier for them to stand up.
Are you worried you might wake up your entire family when flushing during the night? Don't worry! Though it has a powerful flush, this toilet does it silently, unlike many cheaper toilets that make loud growling noises while flushing.
SoftClose toilet seat
This toilet seat features special SoftClose technology. This means it will not slam shut when you let it down a bit too strongly. It will instead slowly close which is a fantastic toilet feature for anyone with small children. SoftClose technology means no more pinching of little fingers.
Plus, refilling happens rapidly too, so you will never have to wait to flush again.
The Ultramax II uses SoftClose technology, so no more toilet seat slamming shut

Easy installation
The Ultramax II is a very compact toilet and a good space saver. Compared to two-piece toilets, a one-piece toilet is a lot easier to install. Because two-piece toilets arrive in two separate parts, the advantage of a one-piece toilet is you don't need to attach the toilet tank to the top of the bowl. However, a two-piece toilet is easier to lift because you are not lifting a complete toilet all at once. If you are going to install this toilet yourself, then it may be a good idea to have someone help you lift it in place.
Toto Ultramax II
How Does The TOTO Ultramax II Toilet Compare To Other Models
TOTO Ultramax II vs. Drake II.
Right now, these are two of the most popular TOTO toilets on the market. Both have some awesome features to offer their users. The main difference between the two is that the Ultramax II is a one-piece toilet while the Drake II is a two-piece.
If you are looking for a powerful flush for your small family, the TOTO Drake II is a good choice but if you want water saving and a low maintenance toilet for a larger family, then the Ultramax II may be a better choice.
The TOTO Ultramax II is a one-piece toilet and the Drake II is a two-piece toilet

TOTO Ultramax II vs. American Standard's Champion 4
American Standard's Champion 4 is another highly recommended and popular toilet from a good brand. Just like the Ultramax II, it also has special glazing to keep things clean and easy to maintain. Its amazing flush system does an excellent job at getting rid of debris from everyday use. Though it uses more water than the Ultramax II, it can still save quite a lot of water compared to older toilets.
But unlike the Ultramax II, this toilet will give you extra storage on the tank since its lid is not sloped. So if you are someone who likes keeping tissues back there, I'm sure you will appreciate this one.
Both great toilets but the Ultramax II uses less water per flush

TOTO Ultramax II vs. Kohler Cimmaron
Kohler Cimmaron has received a lot of wonderful feedback from consumers  due to its quality, efficiency and design. Just like the Ultramax II, it also has an elongated bowl design that offers a certain degree of comfort that you will not find in most rounded designs. It also has an excellent flushing system. In fact, Kohler toilets claim the average household will save more than 15,000 gallons per  year. I must say this is quite a figure.
But what made this toilet so popular is its affordable price. So if you want a quality toilet at a lower price, then maybe you should consider the Kohler Cimmaron. However, if you can spend a little more to have the best toilet, I suggest you take a further look at the TOTO Ultramax II.
Toto Ultramax II Toilet
The Toto Ultramax II is one of the most popular Toto models and it doesn't disappoint. A powerful flushing system, WaterSense Certified, SanaGloss glaze finish along with SlowClose technology. It is not surprising that this model is a customer favorite.
PROS
SanGloss Glaze
SlowClose Technology
Easy To Clean
One-Piece Toilet
Available In 5 Colors
WaterSense Certified
ADA Compliant
Check out our Top 10 Best Toilet Reviews to see if the TOTO Ultramax II made it on our Top 10 list.
Final Thoughts on one of TOTO toilets most popular models
The TOTO Ultramax II delivers what it has promised. It provides performance, efficiency, comfort and a sleek one-piece design. It is ideal for anyone who is looking for a way to save water with every flush and those who are too busy to clean their toilet every week.
This is also the ideal and perfect bathroom fixture if you want a huge upgrade for your entire bathroom. You don't have to worry since this model will be around for quite some time. It will still shine even after years of use, thanks to its great features and durability. You definitely have nothing to lose by giving this TOTO toilet a try.
We hope this TOTO Ultramax II Toilet Review was helpful. If you still have any more questions or there are still some toilets you want me to check out, please drop me a message in the comment section below.