Welcome to my TOTO Aquia Wall Hung Toilet Review.
With bathroom aesthetics no longer limited to resorts and hotels, more homeowners are installing wall-hung toilets in their bathrooms. Compared with their more conventional counterparts, wall-hung toilets can deliver a number of practical benefits.
First of all, you can save a lot of floor space with a wall-hung toilet compared to the other types. They are perfect for small bathrooms since they occupy zero floor space, making your bathroom look a lot more spacious. Another big advantage of a wall-hung toilet is that you can install it at the perfect height for you. Add to this, appearance and easy cleaning, and it is no wonder this type of toilet has become so popular.
If you have decided you would like one installed in your home, then you should definitely consider Toto's most popular wall-hung toilet.
Keep on reading this TOTO Aquia Wall-Hung Toilet Review to find out why.
This page contains affiliate links. We hope you love the products we recommend but just so you know, if you purchase a product from one of our links below, we may receive a small commission. Details here.
Features and Benefits
The TOTO Aquia Wall-Hung Toilet has been in the market for several years now and it has amassed a pretty strong base of consumers who swear by this model.
Amazing Design
First of all, this wall-hung toilet comes in an elegant, modern, sleek design that will match a wide range of bathroom styles. It is only available in white but should blend into most bathrooms.
Plus, this toilet measures as follows: 23.8 inches by 15.8 inches by 17.5 inches. This means it will take up very little space and is suitable for the largest to the smallest of bathrooms. This is absolutely the best space saving solution if you have a very tiny bathroom yet is also a very neat, modern solution for bigger spaces.
It also comes in an elongated bowl design. Elongated bowls are normally more comfortable to use and feel more natural compared to the round alternatives.
Specifications
Color : Cotton White
Dimensions : 21 x 14.2 x 15 inches
Seat Height : 15 to 19 inches
Shape : Elongated
Material : Vitreous China
Weight : 66.5 lbs
Flush : 1.6 & 0.9 GPF
Certification : WaterSense
Easy Cleaning and Maintenance
The ease of cleaning and maintenance is one of the main reasons why homeowners really like wall-hung toilets. Not only do they free up floor space beneath but they also make cleaning hassle-free. Moreover, since the tank is hidden, there are fewer places to clean.
And just like other TOTO toilets, the Aquia Wall-Hung Toilet has also been coated with SanaGloss ceramic super smooth glaze. This is a special coating developed by TOTO to improve the smoothness of the ceramic surface. It will help prevent stubborn dirt, bacteria, debris, and mildew from sticking to the porous ceramic surface of the bowl. This means a cleaner bowl with every flush, creating a more sanitary environment. This is also a great way to eliminate unwanted odors.
It's also good to know that this toilet is made from Vitreous China. This material is strong and durable and will last for years to come.
SanaGloss glaze finish prevents dirt, bacteria and mold from sticking to the bowl

Water Saver
The TOTO Aquia Wall-Hung Toilet also does a great job at saving water. It features a Dual Flush System that will significantly lower your water consumption. This will allow you to use different flushes depending on the waste.
This unit uses 1.6 Gallons Per Flush for heavy waste removal while only using as little as 0.9 Gallons Per Flush for lighter waste.
The Toto Aquia Toilet is a Dual Flush Toilet – 1.6 GPF & 0.9 GPF

Customizable Height Seating
Unlike a floor-mount toilet, this model will give you freedom when it comes to seat height. It will now be little flexible since the bowl support is already on the wall. This means you will no longer be bound by the bowl height.
According to Aquia Wall-Hung Toilet's specification, you can set the seat height between a range of 15-inch to 19-inch. You can choose one according to your needs; for example, if you are a very tall person, the highest 19-inch seat height, may be the most comfortable height for you.
This feature is also very helpful to people with special needs. If you have an elderly or disabled family member, you can fix the seat height to the same level as the wheelchair so he or she can quickly shift over. This will provide added convenience and safety.
Seat Height can be set between a range of 15″ to 19″ – Good feature for disabled, elderly or wheelchair users

Clog Free Design
A regular toilet has a long trapway and a winding ceramic passageway. This combination can lead to clogging issues. However, the Toto Aquia toilet has a shorter trapway design. This shorter trapway will make it less likely to experience annoying clogs. This is because the bowl's content is much closer to the bowl outlet.
It also uses gravitational force of water and weight to push the waste out of the toilet bowl. Since the content is closer to the bowl outlet, it will go straight into the drain pipe.
Short Trapway = No Clogging

How Does It Compare
TOTO Aquia Wall-Hung Toilet vs. Kohler Veil Wall-Hung Toilet
Both toilets have similar performance capabilities. Just like the Aquia, this wall-hung toilet from Kohler is not only a space saver due to its smooth and sleek design but is also very easy to clean and maintain.
But what makes this toilet stand out is how it provides easy and comfortable seating. Thanks to its firm grip with the Q3 seat feature, it is adaptable for any family member, especially those with disabilities. It also features a dual-flush you can adjust according to the type of waste excreted. However, it is not as powerful as the TOTO Aquia and may often require two flushes.
Both Toilets have a Dual Flush Feature, however the Aquia's Dual Max flushing system should be more powerful

TOTO Aquia Wall-Hung Toilet vs. American Standard Glenwall Wall-Mounted Toilet
The American Standard Glenwall Wall-Mounted Toilet is another amazing product that will transform the overall look of your bathroom by giving it a modern and classy touch.
But what makes this product amazing is the EverClean technology that has been innovated by American Standard itself. This helps in eliminating the possibility of bacteria as well as any microbe growth in your toilet, helping you keep a more hygienic and sanitized bathroom.
And just like the TOTO Aquia, this is a stylish vitreous China toilet that is easy to clean and durable enough to last for a long time. It is also water efficient, using about 1.6 Gallons Per Flush. This makes sure there will be minimum water used to get the job done.
Toto Aquia Wall Hung Toilet
The Toto Aquia Wall Hung Toilet is a neat model that is a great space saving addition to any small bathroom. Its dual flush feature is also great for conserving water.
PROS
Neat Design
Space Saver
Dual Flush
Water Saver
Versatile Seat Height
If you would like to see a TOTO Wall-Hung tank and toilet installation, then why not have a look at this video to find out what is involved

(Viewing time 16 mins)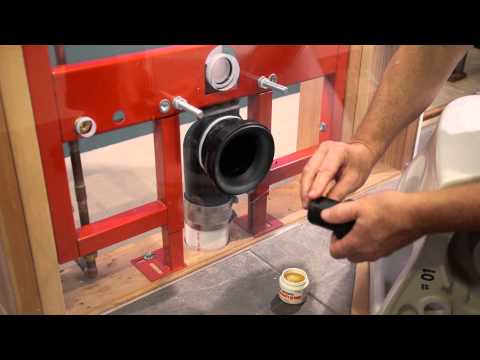 Final Thoughts
Do I have to say more about TOTO? Well, this brand has proven it stands for high quality and performance. The TOTO Aquia Wall-Hung Toilet has received great reviews and is absolutely one of the best wall-hung toilet models recommended for any bathroom. It's a space saver, easier to clean, has a dual flush feature to save water and most of all it comes at a very affordable price.
I hope this Toto Aquia Wall-Hung Toilet review will help you decide if this toilet is the right one for your bathroom. If you still have any more questions, please drop it in the comment section below.