Welcome to my TOTO Promenade II Toilet Review.
TOTO, the famous Japanese toilet manufacturer, has this desire to improve people's quality of life. This brand has been loyal to its "people first innovation" philosophy. You can see it through their designs and quality of products, which have been one of the market's best. Of course, these values are evident in the TOTO Promenade II.
The Promenade II is among the best TOTO toilets. This sleek and gorgeous toilet will definitely be a great addition to any traditional bathroom. Now, let's find out why this toilet has become many people's favorite. I hope this TOTO Promenade II Toilet Review can help you decide if this model is the right TOTO toilet for your bathroom.
This page contains affiliate links. We hope you love the products we recommend but just so you know, if you purchase a product from one of our links below, we may receive a small commission. Details here.
Features and Benefits
Beautiful, Comfortable and Durable Design
The TOTO Promenade II has one of my favorite designs and will complement most bathrooms. It has a universal height that meets the ADA criteria, making it easy and comfortable to use by different people. In addition to that, this toilet features an elongated bowl that provides far more comfort than the round design.
I also like that a soft close seat has been included in the package. Slow close technology prevents slamming and pinching fingers (great for young children). This means you don't have to worry about a noisy lid, no more piercing bangs that can potentially damage the bowl rims.
Also, TOTO will not have made it this far in the industry if they were not producing sturdy and long-lasting toilets. The TOTO Promenade II is made of vitreous china material, this means it is sturdy enough to last for many years and is definitely a good investment.
The TOTO Promenade II is a Universal height toilet and has a slow close seat.

Specifications
Color : Cotton White
Dimensions : 28-1/2 x 17-3/4 x 31-1/4 inches
Seat Height: 17-1/4
Shape : Elongated
Material : Vitreous China
Weight : 91 lbs
Flush : 1.28 GPF
Handle : Left Side
Certification : WaterSense & ADA Compliant
Tornado Flushing System
This one-piece toilet is equipped with TOTO's patented Tornado Flushing System. This system works by using three water jets that are angled to produce a whirlpool-like effect within its rimless bowl. With this system the water will gain enough centrifugal force that quickly lifts away any waste and thoroughly cleans the surface.
Check out this short video demonstrating TOTO's Tornado Flushing System

(Viewing time 1.40 mins)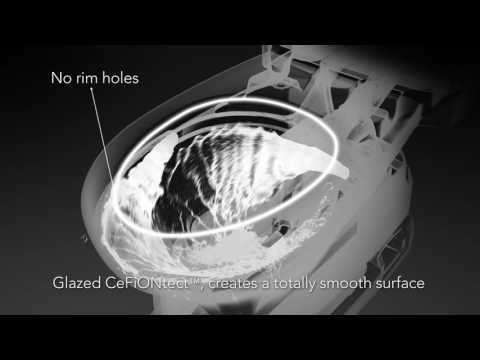 Water Conserving Flush
The Promenade II also focuses on water conservation and is environmentally friendly. It features a flushing system that only uses 1.28 gallons of water per flush.
Do you know that most of our old toilets were using three to four gallons per flush? Well, this means that with the Promenade II, you are not only helping the environment, but you will also reduce your water bills.
This is why the TOTO Promenade II is able to meet various standards like the EPA WaterSense certification and CALGreen.
The Toto Promenade II is WaterSense Certified – 1.28 GPF

Easy to Clean and Maintain
Since the Promenade II is a one piece toilet, you will find it easier to maintain and clean compared to a two-piece toilet. Not only this but its CeFiONtect glaze feature that protects the bowl from accumulating germs, particulates, bacteria, and stains will also efficiently keep the toilet clean. This means you will be able to keep the toilet's surface cleaner for a longer time, minimizing the time you will spend on cleaning.
This short video will show the benefits of having the CEFIONTECT glaze finish on a TOTO toilet

(Viewing time 0.40 seconds)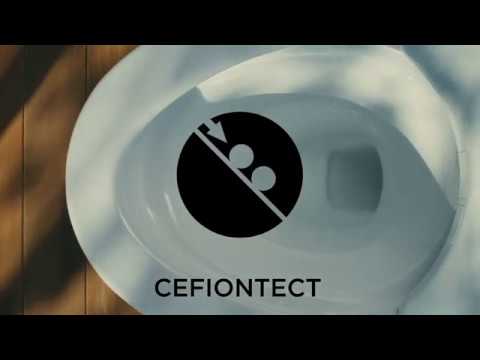 Well, most toilet bowls in the market have an easy to clean surface and all you will need is a standard toilet brush to do the job. But we all know that's not always the case. There's one hidden area that dirt just loves to nest and unfortunately, this area can be very difficult to reach using a standard toilet brush.
The area that I'm talking about is the one under the rim of the bowl. This area is very prone to dirt build up and cleaning this area is not a pleasant task, right? Well, I've got some good news for you. With the TOTO Promenade II, you will never have to clean this area. Due to its rimless design, it makes cleaning so much easier and makes the toilet a lot more hygienic.
Simple Installation
This one-piece toilet is much easier to install since it's a floor mounted toilet that comes in a standard 12-inch rough-in. I like that it already comes with a toilet seat so there's no need to purchase one separately.
How Does it Compare
TOTO Promenade II vs TOTO Drake II
These two toilets come with similar features. Both have EPA WaterSense certification, so both release only 1.28 gallons per flush. Both also feature the powerful Tornado flush technology, CeFiONtect glaze finish that keeps the toilet clean and protects from dirt builds up. What is more, they are both universal height toilets and meet the ADA criteria.
Both are great toilets and very popular, however the TOTO Drake II is much cheaper than the Promenade II.
Both are great choices however, the Promenade II is more expensive than the Drake II.

TOTO Promenade II vs. TOTO UltraMax II
Both toilets combine a one-piece toilet and elongated bowl design. When it comes to performance, both have the best features TOTO have to offer, such as Tornado flushing technology, CeFiONtect glaze, WaterSense Certification, CALGreen, and ADA compliance.
I must say the TOTO UltraMax II is a great alternative to the Promenade II. They are also similar in price, so which ever design you prefer will be the winner.
This one is a draw. Similar toilets at a similar price. They look different, so choose on their design.

TOTO Promenade II vs. American Standard Champion 4
Just like the TOTO Promenade II, the American Standard Champion 4 is also a great one-piece toilet with a striking design. It features an EverClean Surface, which is the counterpart of TOTO's CeFiONtect glaze. It will make sure you don't have to worry about mold or debris build-up on the inside of the toilet that might require extra work to get rid of.
The American Standard Champion 4 also uses an ergonomic elongated bowl that makes it very comfortable. This will be great for those who have trouble sitting. Other features you'll appreciate are that it is ADA-compliant and 100% factory flush tested.
The only downside of this toilet is that it uses 1.6 gallons of water per flush, making the TOTO Promenade II much more efficient and water-saving at 1.28 gallons of water per flush.
The American Standard Champion 4 is a solid competitor, however the Promenade II is more water efficient.

Toto Promenade II Toilet
The Toto Promenade II is one of my favorite Toto Designs. However, not only does it look fabulous, it also has all of the great Toto features as well. The Tornado flushing system, Cefiontect glaze finish, 1.28 GPF and a soft close seat is included.
PROS
Great Design
WaterSense Certified
Easy to Clean
Easy to Install
Soft Close Seat Included
To see our review list of the Top 10 Best Toilets, follow the link.
Final Thoughts
With the modern and classic style of the TOTO Promenade II, it can only improve your bathroom's appearance. Plus, with some of TOTO's best technology wrapped into this product, no wonder it has become very popular with homeowners.
Hopefully this TOTO Promenade II Toilet Review will help you find the right toilet for you. If you still have any more questions, please don't hesitate to drop it in the comment section below. I will get back to you as soon as I can.