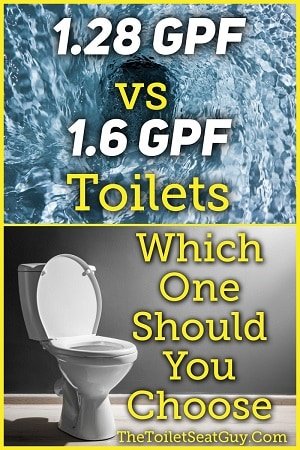 As toilet technology has evolved through the years, toilet performance has obviously improved. One major improvement is water efficiency per flush. The amount of water needed to effectively flush has steadily decreased and now modern low flow toilets use very little water per flush compared to toilets of old.
However, is there such thing as too little water? Are for example, 1.28 GPF toilets better than 1.6 GPF toilets? Hopefully, in this article, 1.28 GPF vs 1.6 GPF toilets, we can compare these two low flow toilets to see which toilet is the best and if going very low is really necessary.
What is GPF and Why Does It Matter?
GPF, or gallons per flush refers to the amount of water used to flush a toilet. While many people may not think about this toilet feature, it is in fact a very important aspect. Older toilets generally have a higher GPF compared to modern toilets, making them more wasteful and not very environmentally friendly.
Saving water is crucial, but what it also comes down to is money. If a toilet is using too many GPF, it is wasting a lot of money, quite literally flushing dollars down the drain.
Since 1992, the Energy Policy Act was implemented as a means of water conservation. It was regulated that toilets sold in the United States after January 1994 use no more than 1.6 GPF. With that maximum in place, low flush toilets of 1.6 GPF became an industry standard.
Throughout the years, the GPF a toilet needed has dropped from a startling 7 GPF to 3.5 GPF and then to 1.6 GPF. However, in recent years, there has been demand for an even lower GPF. 1.28 GPF toilets have arrived and have become increasingly popular in households.
The cost savings associated with high efficiency toilets can be equated to just how much water they are known to save. Since implementing 1.6 GPF flow toilets, it is estimated savings of up to 20,000 gallons per year for a household family. The switch to high-efficiency toilets like these have reduced water use by a whopping 50%. These stats add up and with advancements of the 1.28 GPF toilets, the stats will continue to improve.
How Does GPF Influence a Toilets' Overall Performance?
When judging a toilet's performance, there are several criteria to consider. This includes: is it a loud flushing toilet, how much it clogs (if at all), and the power of its flush. All these features are largely dependent upon if the toilet is gravity or pressure-assisted based.
The gravity models rely on gravity to dispose of waste. They are generally designed with enhanced water velocity technology meant to siphon waste in a downward slope. The pressure-assisted base includes front jets to propel waste at a slightly faster rate. These toilets are considered a lot noisier than traditional gravity based toilets.
Newer advancements in toilet technology have set out to create a low flow toilet that will save water but still maintain an excellent performance. A common misconception is that low flow toilets are not as powerful as ones with bigger GPF.
However, 1.28 / 1.6 GPF toilets have broken that mold by being more efficient with the water used. With low flow toilets, less is more. Toilet manufacturers have designed newer models to accomplish more with less water during a single flush to ensure less need for double flushes, all while maintaining an overall excellent performance.
Initially, high efficiency toilets were considered to clog more than higher GPF toilets, however that has been addressed in recent years. As a low flow toilet should save money and be environmentally friendly, the designs today focus on ensuring no double flushes.
A double flush means more water wasted and more money down the drain. In the past couple of decades, the toilet industry has really improved the performance of low flush toilets and changed people's overall feelings towards them.
1.28 GPF Pros and Cons
PROS:
Only 1.28 gallons used during a flush
Quieter than most other toilets
Eco-friendly design
Money saver
Space saving design with a smaller toilet bowl
In the United States, all states allow this model
Uses an estimated 2,336 gallons a year per person (based off an average of 5 flushes a day)
CONS:
Low powered flush
Additional flushes may be needed
1.6 GPF Pros and Cons
PROS:
Only 1.6 gallons used during a flush
Typically, quiet
Single flush is enough
Powerful flush
CONS:
Overall, not as efficient as a 1.28 GPF
Overall, not as Eco-friendly as a 1.28 GPF
Bulky in design with a larger tank shape
In the United States, not all states permit the use of this type of toilet
Uses an estimated 2,920 gallons a year per person (based off an average of 5 flushes a day)
What is a WaterSense Certified Toilet?
A WaterSense certified label ensures a high-quality toilet that has gone through vigorous testing to make sure it performs to a high standard and is also extremely water efficient. In fact, to receive a WaterSense Certified label, a toilet must use less than 1.6 GPF. These toilets are independently tested and certified through the EPA (Environmental Protection Agency).
They are generally found in residential homes, however, due to their better overall performance, they are becoming more popular among commercial use as well.
What is the Best GPF for a Toilet?
When comparing 1.28 GPF and 1.6 GPF toilets, they are close in functionality, however, each one has its own pros and cons. Overall, 1.28 GPF toilets have become increasingly popular in recent years. As the world becomes more environmentally aware, society is striving to do what they can for the environment and their pockets.
Another question to ask is, are 1.6 GPF toilets enough? Well, it most definitely can be for some families. While it's popularity among households may be decreasing, some are sticking to this model. This could be due to a more powerful flush and because of this some people will assume it will have a better flushing performance. However, to have more power, it is using more water, so there is a tradeoff.
Dual Flush Toilets- An Alternative to 1.28 GPF and 1.6 GPF Toilets
What if you would like a dual flush toilet. Dual flush toilets give you the option to use a half flush and a full flush. For liquid waste you can use a half flush and can be as little as 0.8 GPF. For solid waste, you can use a full flush. A full flush can be as little as 1.28 GPF.
In addition, dual flush toilets have been found to have a lower overall water consumption rate when compared to 1.28 GPF and 1.6 GPF single flush toilets. This is due in part because of half flushes replacing full flushes for liquid waste, but also because it uses a smaller amount per flush on average.
While a dual flush toilet is a little more expensive up front, it is definitely worth the investment in the long run. Not only will you save money on your water bill, but you'll also save water, which is very important for our environment.
Dual-flush toilets are available in most states, including California, Texas, and Colorado. Most dual flush toilets are WaterSense-certified and are widely available. Instead of the usual flush handle, a dual flush toilet has two buttons on top of the tank lid.
Can 1.6 GPF Toilets be Bought in Texas or California?
As mentioned before, not all states allow the use of 1.6 GPF toilets. For example, Texas and California are two states that prohibit the use of this model of toilet. But why? Toilet water has the highest percentage of indoor water usage in the nation, coming in at over 30%.
For states like California and Texas, where droughts are a problem, high water wastage is a big concern. California implemented this rule first and not long after, Texas followed suit. It became a means to save water and in the long run helped the states become more environmentally focused.
So as you can see, there are pros and cons to both 1.28 GPF and 1.6 GPF toilets. They are both water efficient and widely available to choose from. Which one to choose? Well, this will depend on how water efficient you would like your toilet and whether you are willing to trade in a little power when comparing to 1.6 GPF toilets.
Of course, you may not have a choice depending on which state you live in. If you are purchasing a new toilet in either California, Texas, Georgia or New York, then the toilet flush cannot exceed 1.28 GPF.
However, if you do not live in one of these states and you want a little more water and power in your flush, then a 1.6 GPF toilet will be a better option for you.
What is My Recommended 1.6 GPF Toilet?
WoodBridge T-0019 Dual Flush Toilet
The WoodBridge T-0019 Dual Flush Toilet is a very popular, great value, and efficient model that also looks great. It's a one-piece toilet that'll look fantastic in any contemporary bathroom.
The Siphon flush system in this Dual Flush toilet is both powerful and quiet, making it ideal for use in a shared space.
Furthermore, WoodBridge claims that this toilet will not clog or leak. Based on Amazon's high ratings, it appears that consumers are very satisfied with this model.
As mentioned above this model is a dual flush toilet. The T0019 uses about 1.6 GPF for solid waste, but only 1.0 GPF for liquid waste.This results in an average of 1.28 GPF, which meets the WaterSense EPA requirements.
Woodbridge T0019 Pros and Cons
PROS:
Dual Flush System
Powerful Siphonic Flush
Easy To Clean Design
Soft Close Seat Included
Quick Release Toilet Seat
Comfortable Height
Watersense Certified
Wax Ring And Bolts Included
5 Year Warranty
CONS:
Not The Easiest Toilet To Install
The Woodbridge T-0019 is a stunning modern one-piece toilet that will complement any contemporary bathroom. It has a powerful flush with highly efficient Dual Flush options. With its simple to maintain design, Comfortable Height seating and Quick Release soft close toilet seat, it's no surprise that this model is a popular choice for many Amazon customers.
Click Here For Price On Amazon
What is My Recommended 1.28 GPF Toilet?
Swiss Madison St. Tropez Toilet
The Swiss Madison St. Tropez is one of my favorite compact toilets, not only for its design but also for its flushing performance as well. It is a regular best seller online and is superb value.
Firstly, the St. Tropez has a very modern look. The slimline tank is one of my favorite aspects of the design. Some tanks are rather large and take up a significant amount of room. This is fine for larger bathrooms, however if you have a smaller bathroom, then a space saving toilet is the best option. 
Often, many space saving experts advocate utilizing height rather than length. This toilet is 31″ tall and only 26.6″ long. The water tank is thinner than regular toilets but the extra height will make sure water requirements are not sacrificed.
I also really like how smooth the skirted base is. Maintenance and cleaning will be a lot easier because there are no intricate designs that collect dirt and germs easily. This toilet may look as good as new for many years, simply with a regular wipe with a damp cloth.
This is a highly efficient toilet that challenges the WoodBridge Dual Flush model, above. The toilet tornado flush is not only very powerful, but it has also received excellent performance reviews for its silence. 
Although the tank is thin, it doesn't diminish its flushing ability in the slightest. The tank has actuator buttons that allow you to select between two flushing settings. You may choose between a partial flush of 0.8 GPF or 1.28 GPF for a complete flush, which features two separate flushing options.
Overall, the St. Tropez flush system earns a sterling score for power, efficiency, and noise.
Swiss Madisson St. Tropez Pros and Cons
PROS:
Dual Flush System
Tornado Flush
Easy To Clean Compact Design
Soft Close Seat Included
Quick Release Toilet Seat
Comfort Height
Watersense Certified
Wax Ring And Bolts Included
CONS:
May Need Two People To Install
The Swiss Madison St. Tropez is a top quality toilet, that will look great in any bathroom.  However, it is a fantastic choice for smaller bathrooms due to its space-saving design. It's also simple to clean and maintain, with a sleek, smooth skirt and one-piece construction.  It is very efficient, thanks to its 0.8 and 1.28 GPF dual flushing options, which are both WaterSense Certified.  Add in the Comfort Height seating , a Slow Close, Quick Release toilet seat and it is easy to see why this compact toilet certainly holds its own.
Click Here For Price On Amazon
Conclusion to the 1.28 GPF versus 1.6 GPF Toilet Debate
When buying a new toilet, flushing power, performance, and efficiency are all important factors to consider when choosing the right model for you.
With so many toilet brands to choose from and so many types of toilets available, deciding which model is best for your household can be a difficult process. Deciding how many GPF your toilet will have is one of these factors to think about.
While 1.28 and 1.6 GPF toilets might seem similar, one has less water usage than the other which can be beneficial depending on where you live as well as your lifestyle.
If you live in a state where high water usage is not permitted and the environment comes first, then a 1.28 GPF will be more suitable for you. However, if you like your toilets powerful and don't mind using a little extra water now and then, then go for a 1.6 GPF toilet instead.
Hopefully, this article will help you make a more informed decision when buying your next toilet.